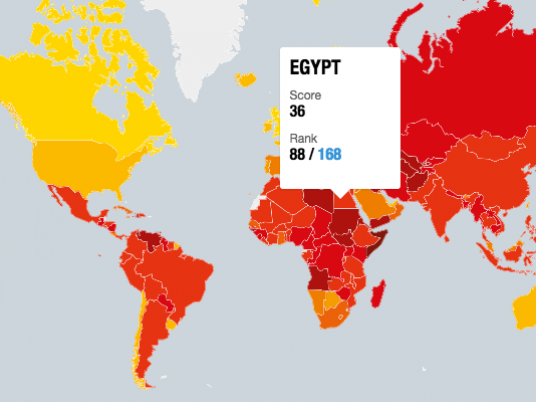 Egypt's score in the 2015 Corruption Perceptions Index dropped from 37 to 36 compared to last year's score.
The corruption index, released Wednesday by corruption watchdog Transparency International, gauges the perception of public sector corruption in 168 countries. Countries are ranked on a scale from 0 (highly corrupt) to 100 (very clean). In the 2015 index, two-thirds of the countries ranked scored below 50.
While Egypt saw itself downgraded one point compared to its 2014 score, the country has still improved compared to 2012 and 2013 when it ranked 32.
Compared to its neighbors, Egypt is perceived as more corrupt than Qatar (71), the United Arab Emirates (70) and Jordan (53). Ranking below Egypt, Lebanon (28), Syria (18) and Iraq (16) are considered some of the most corrupt countries in the region according to the index.
"The 2015 Corruption Perceptions Index clearly shows that corruption remains a blight around the world. But 2015 was also a year when people again took to the streets to protest corruption. People across the globe sent a strong signal to those in power: it is time to tackle grand corruption," said José Ugaz, Chair of Transparency International.
Corruption at the government level has been the center of media attention in recent weeks following the release of a report by the head of the Central Auditing Organization, Hisham Geneina, that claims the size of corruption in Egypt in 2015 amounted to LE600 billion.
A fact-finding committee formed by Egypt's presidency concluded that Geneina's findings were "exaggerated" and "delusional", claiming that the reported amount of LE600 billion covers more than just one year.