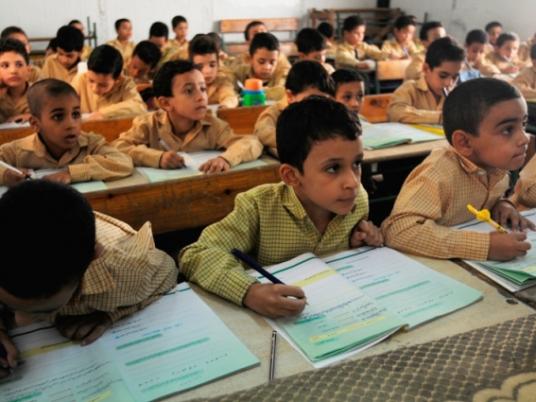 Egypt Education Minister Tariq Shawki announced amendments to the primary education system in a press conference, that includes canceling certification for Primary Education.
Shawki added that pupils in their sixth year of primary school won't get certificates upon compilation of the primary stage, and rather, it would be a normal school year.
The minister added that exams for six year primary schools would be uniform level of education departments in each city, instead of at the level of each governorate.
He added that Arts, and Computer education will be curriculums in which a pupil has to go through an exam that determines if he/she fails or succeed. In the old system there were no exams for those curriculums. He added that there is a new vision being shaped for teaching those curriculums.
He pointed out that a technical committee has been set up to prepare three booklets for activities on citizenship values and identity, that introduce them into the school curriculum.
Shawki pointed out that the educational materials on the Egyptian Knowledge Bank (EKB) were examined to determine what suits science and mathematics for the first and second secondary grades, and will be linked to the curriculums for the next academic year 2017-2018.
Shawki said that the ministry is working on sustainable development of across the country, with the plan 'Egypt 2030' a balanced and diversified technological system that invests in man and place to achieve sustainable development while preserving the heritage of the Egyptians.
Shawki said that the government plan includes the expansion of the establishment of STEM schools for the gifted and talented students, establishing and developing schools similar to the Japanese schools project, along with building schools in partnership with the private sector.
The Minister pointed out that there are three institutions tasked with building 100 schools during the current fiscal year, amongst it are the General Authority for Educational Buildings and the Engineering Authority of the Armed Forces, noting that this number includes projects delivered and those to be completed.
He stated that these schools are being built in different governorates, and 28 new schools will be handed to his ministry by August 15, andwill be furnished within 10 days after completion.
Edited Translation from Al-Masry Al-Youm