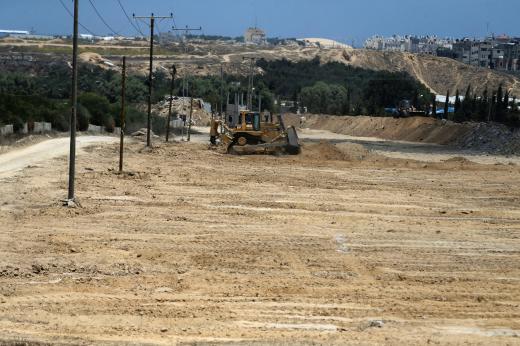 North Sinai governor, Major General Abdel Fattah Harhour, said Friday that work is underway to extend the Egyptian side of the Gaza Strip buffer zone 1500 meters in width, instead of 1000 meters which has been implemented over two phases.
In press statements during the 6th of October war anniversary celebrations, Harhour said that all buildings within the new extension will be demolished, adding that 40 houses have been demolished and 61 feddans have been dredged.
Egypt has been working since October 2014 to establish a buffer zone along the Gaza Strip border, in an effort to eliminate militants in the region and prevent smuggling.
Demolitions were performed during phases I and II for a distance of 500 meters each, with compensation for residents in the area whose homes were torn down.
In October 2014 Egypt implemented the first phase, and in January 2015 implemented the second phase. The number of homes slated for clearance at the most recent stage is estimated at 1,220.
The Gaza Strip is a narrow strip of land along the Mediterranean Sea between Egypt and Israel, 40 kilometers long and 10 kilometers wide with about two million Palestinians.
Edited Translation from Al-Masry Al-Youm