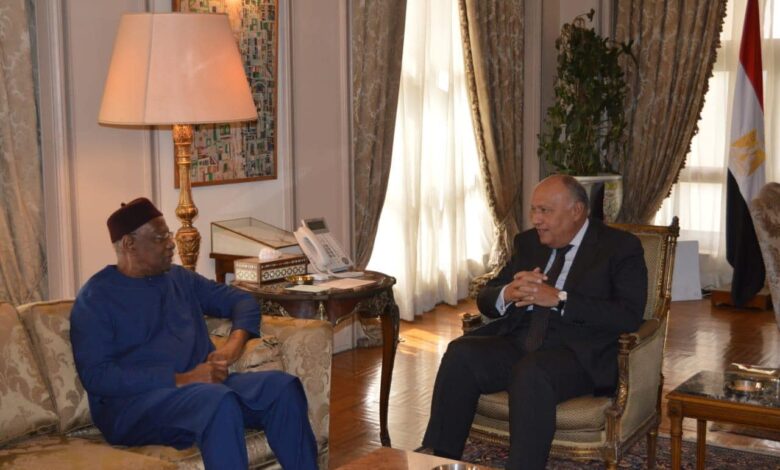 Egyptian Foreign Minister Sameh Shoukry received on Monday the Special Representative of the United Nations Secretary-General and Head of the United Nations Support Mission in Libya Abdoulaye Bathily.
Shoukry expressed Egypt's full support for Bathily for the success of his mission to restore stability in Libya, and stressed the centrality of the role of the United Nations.
Also its impartiality, which makes it gain the confidence of the parties inside Libya and in the international community.
Shoukry presented the continuous efforts that Egypt has made and is still making sincerely to resolve the crisis, especially through its recent hosting of rounds of the constitutional track between the House of Representatives and the High Council of State.
He pointed out the importance of completing this path and the need to hold presidential and legislative elections simultaneously in Libya in order to end the crisis and achieve the aspirations of the brotherly Libyan people.
He did this while stressing the Libyan ownership of the solution and the importance of respecting the elected legislative institution.
Shoukry stressed that there is no room for implementing existing agreements, and adherence to legal and political entitlements.
To implement specific mechanisms and time frames for implementation, and vigorous follow-up by the international community to the parties responsible for implementation.
Shoukry added that this also requires the implementation of UN and international decisions regarding the exit of all foreign forces, mercenaries, and foreign fighters from Libya within a specific time frame, stressing in this regard the importance of supporting the mission of the 5 + 5 Joint Military Committee.
For his part, Bathily expressed his aspiration to coordinate with Egypt during the coming period, as it was agreed to intensify work towards advancing the Libyan-Libyan political solution in order to achieve security, stability and prosperity in brotherly Libya.