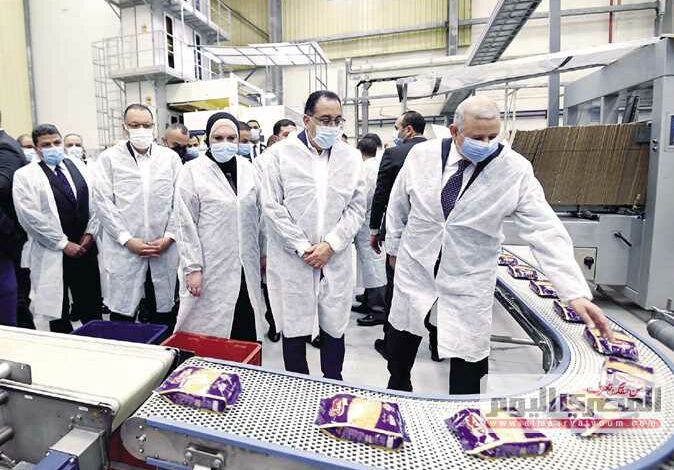 Egyptian Prime Minister Mostafa Madbouly assured that the government is working hard to attract more investments and support the private sector's role as a pivotal partner in various development processes, by creating an investment climate in various sectors and expanding the establishment of free zones.
This came during Madbouly's inspection of the investment zone Pyramids for Industrial Zones Development and several factories in the free zones of the Tenth of Ramadan City on Saturday.
He noted the government's interest in labor-intensive industries because of their major role in providing more job opportunities: these industries contributed to a decline in the unemployment rate by the end of 2021 to 7.4 percent of the labor force, compared to 7.9 percent in 2020.
Madbouly's inspection tour began with a visit to the factory of the Badawy Group Company for Food Industries.
There he listened to an explanation from the company's chairman Bahaa Eddin Badawy, who explained that the invested capital amounts to two billion LE in establishing and operating a factory and mill for the production of pasta and flour.
The total area of the pasta production plant is about 50,000 square meters, he said, with a production capacity of about 14,000 tons per month in addition to 7,000 tons of flour.
Madbouly then went to the headquarters of the Egyptian-Swiss Group, and listened to an explanation from Ahmed al-Sebaei, the general manager of the company, who said that the group includes the Egyptian Swiss Concentrates, with a capital of LE 40 million, on an area of ​​6,000 square meters.
Their manufacturing plants concentrates on producing sauce, jam, and juice, he explained, with a production capacity of 3,000 tons per month while their average volume of exports is more than 10,000 tons per year.
The visit later stopped over at a factory belonging to Al-Arafa Company for Investments and Consultations.
Madbouly was briefed by its Chairman of the Board of Directors Alaa Arafa, who indicated that the company owns a base of factories, the largest in the Middle East and Africa, and contributes significantly to increasing exports of clothing, and ready-made products, especially to the American, Spanish and English markets.
It also uses Egyptian fabrics to manufacture suits in the equipment factories, and the group achieves annual sales of about $250 million, he added.