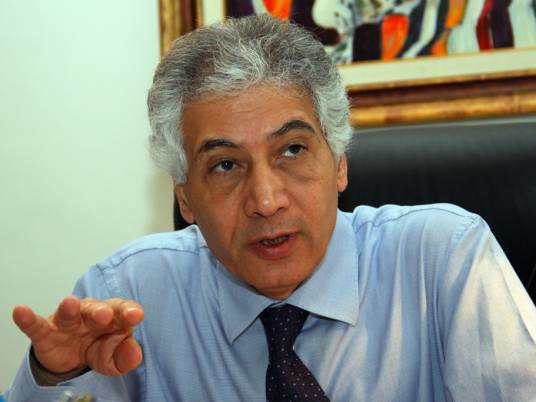 Egypt wants to encourage foreign oil companies in the country to increase exploration and production in exchange for a more rapid repayment of $6 billion it owes them, its finance minister said on Sunday.
The government also plans to repay 2.5 billion to 4.0 billion Egyptian pounds ($363 million to $580 million) in arrears owed to local contractors by around mid-October, Ahmed Galal said in an interview.
Egypt has been struggling to meet soaring energy bills caused by high subsidies on fuel products for its 85 million population.
The government's ability to pay oil companies and contractors was hit after the popular uprising that ousted president Hosni Mubarak in early 2011 frightened away tourists and investors, cutting into tax revenue.
"Right now the rescheduling of the debts is under review in exchange for the companies investing in drilling and exploring for oil and increasing production and such things. And that is beneficial to both parties," Galal said.
"What is on the table is the scheduling of these debts in a way that gives the companies an amount of liquidity that allows them to invest and discover to benefit production."
Galal said he had been meeting regularly with the oil minister and governor of the central bank to work out where the money will come from and tie the payments to a long-term programme to encourage alternative energy and a strategy to get subsidies under control.
This could involve an eventual restructuring of Egypt's entire oil sector, he said, although payments to foreign oil companies would begin soon. "We are talking about weeks," he said.
TIGHT FINANCES
Energy subsidies cost the government an estimated LE120 billion in the fiscal year that ended on 30 June, Yasser Sobhi, deputy director of the ministry's macro-fiscal policy unit said on Sunday.
This should fall to LE100 billion this year, assuming a smart card system to ration fuel is put in place as planned in the coming weeks, Sobhi said.
On Thursday, al-Masry al-Youm newspaper quoted Prime Minister Hazem el-Beblawi as saying he hoped the companies could be encouraged to invest $15 billion within two years.
Financial disclosures by firms including BP PLC (BP.L), BG Group (BG.L), Edison SpA (EDNn.MI) and TransGlobe Energy (TGL.TO) show Egypt owed them more than $5.2 billion at the end of 2012.
Dana Gas DANA.AD, owed $230 million by Egypt in overdue payments for gas supplies, said it was in active dialogue with the government over the debts.
The finance minister also said on Sunday a deal to convert $2 billion Qatar deposited with Egypt's central bank into bonds had still not been sealed. Qatar sent Egypt $3 billion in May of which it converted $1 billion into three-year bonds.
A central bank official said on 4 September Egypt was prepared to repay the $2 billion within days if negotiations to convert the funds into bonds did not succeed. The Egyptian newspaper Youm 7 reported last week that Qatar had agreed to the deal.
On 1 July, Egypt converted the $1 billion into three-year bonds at 3.5 percent interest and in May it converted another $2.5 billion of Qatari loans into 18-month bonds at 4.25 percent interest. The bonds were listed on the Irish stock exchange.
Saudi Arabia, Kuwait and the United Arab Emirates pledged Egypt a combined $12 billion in grants and interest-free loans.