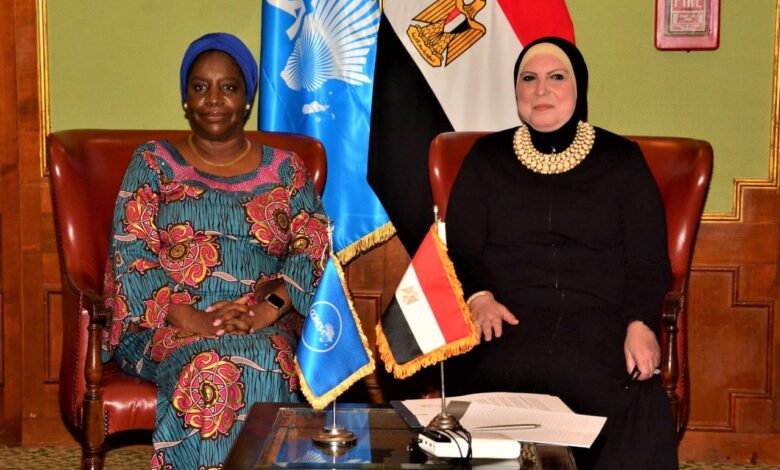 Egyptian Minister of Trade and Industry Nevine Gamea held a meeting with the Secretary-General of the Common Market for Eastern and Southern Africa (COMESA), Chileshe Kapwepwe, to discuss Egypt's preparations to host the 21st COMESA summit and Egypt's ambitious plan to preside over the summit for the second time.
Gamea announced that Egypt's New Administrative Capital will host the 21st COMESA Heads of State and Government Summit on Tuesday, with in-person and virtual participation of member countries and heads of African economic blocs.
Held under the theme: "Building Resilience Through Strategic Digital Economic Integration," the summit aims to rally the 21 member states on how to safeguard and advance the COMESA regional integration agenda using digital platforms to facilitate doing business and enhance their resilience to face the economic repercussions of the COVID-19 pandemic.
The minister said that Egypt welcomes hosting the 21st COMESA summit and presiding over the COMESA group for a year for the second time, as its chairmanship of the COMESA group includes ambitious and clear plans with rapid achievement rates to increase aspects of cooperation with the COMESA countries.
Gamea added that once the COMESA summit is held and Egypt takes over the presidency, meetings will be intensified with experts and technicians to set a time plan of action to achieve all that Egypt aims for during its presidency of the community.
She noted that the convening of the summit's work in the New Administrative Capital represents a distinct opportunity to inform friendly African nations of this huge edifice, which is built on a world-class level and is one of the most important major Egyptian national projects.
Gamea pointed out that Egypt's chairing of COMESA will support its determined efforts with other African countries to achieve economic integration on the continent and overcome obstacles that may hinder free trade between COMESA members.
It will also strengthen cooperation among investment agents in Africa and open communication channels between the governments of member countries and the private sector to facilitate the movement of investments within the continent.
Kapwepwe explained that the summit comes at a very critical time, especially in light of the challenges presented by the COVID-19 pandemic on most of member states, whose economic performances have declined with the slowdown of the global economy.
These challenges, she added, are a motivation for COMESA countries to continue working to deepen economic integration and create a conducive climate for the business community and the private sector, intensifying efforts to boost joint investments in various infrastructure sectors, and most notably in telecommunications, transportation and energy.