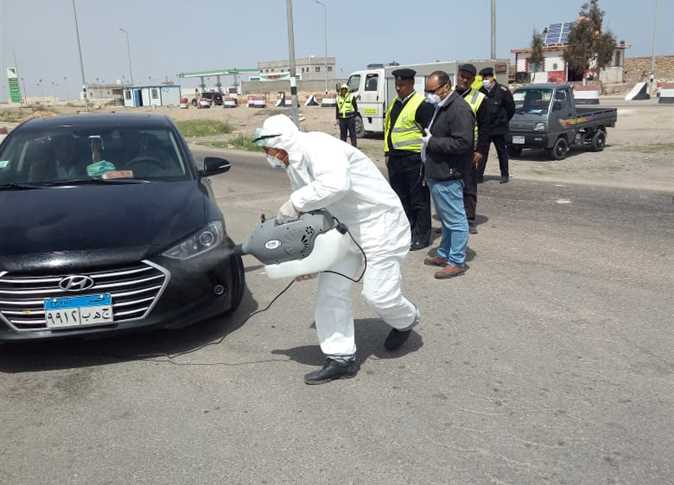 Marsa Matrouh Governorate has teamed up with the Health and Veterinary Directorate to install three sterilization checkpoints at Kilo 21, Kilo 15 and Alexandria Street's entrance, sterilizing any vehicles passing through in order to combat the coronavirus outbreak, Marsa Matrouh city mayor Walid al-Madawy announced on Sunday.
The governorate has intensified sterilization campaigns for governmental buildings, places of worship and schools, Madawy said – alongside distributing posters with coronavirus prevention guidelines, using vehicles to spray disinfectants across the governorate and removing garbage dumps to stop diseases spread by pests.
He added that the Marsa Matrouh city operation room operates 24 hours a day, receiving citizen complaints through contact numbers 0464933105/0464935266.
Egypt has undertaken a new phase to combat the coronavirus through a campaign to disinfect and sterilize government buildings, following an initiative from the Health and Population Ministry to perform weekly sterilizations in public buildings.
Minister of Health Hala Zayed suggested picking Friday to be a weekly sterilization day, where buildings for public and private sectors, public areas and transportation nationwide are sterilized to battle disease.
Minister of Transport Kamel al-Wazir has instructed the Egyptian Company for Metro Management and Operation to sanitize metro cars and stations along the three lines on a daily basis, as part of measures to contain the spread of the novel coronavirus outbreak.
Egypt announced on Sunday 33 new coronavirus cases and four additional deaths, bringing the total number of cases confirmed so far in the country to 327.
14 people have died from the virus in Egypt.
Fifteen previously confirmed cases registered in Egypt, including seven foreigners and 8 Egyptians, have discharged from hospital on Sunday, bringing the total number of fully recovered cases to 56 so far.
Megahed added that seventy-four tests have come back negative.