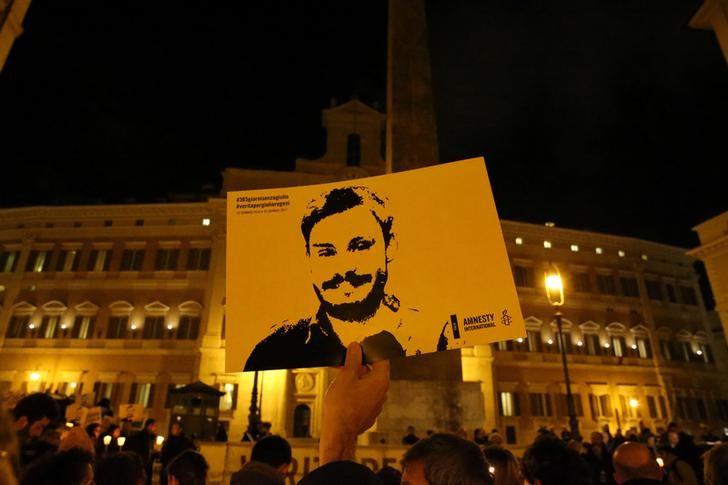 Official spokesperson for the House of Representatives in Egypt, Salah Hasaballa said Saturday that Egypt is even keener than Italy to reveal the murderer of Italian university student Giulio Regeni.
During a phone-in with TeN satellite channel, he added that it is not in Egypt's interest to hide the murderer of Regeni.
"Relations between Egypt and Italy are strong and historical," he said.
The Speaker of the Lower House of the Italian parliament Roberto Fico said Thursday the House would halt all diplomatic relations with the Egyptian parliament until there is a breakthrough and trial in the case of tortured and murdered Italian student Regeni.
"With great regret I must announce that the Lower House will suspend all type of diplomatic relations with the Egyptian Parliament until there is a real breakthrough in investigations and a trial that resolves the case," he said.
House caucuses later agreed to back Fico's move, according to the Italian news agency ANSA.
"All the groups have decided to adhere to the Speaker's initiative," they said in a statement.
Hasaballa said that the President of the House of Representatives Ali Abdel Aal contacted the Italian Parliament to find out the reason for taking this decision and resolve this issue.
The Egyptian House of Representatives denounced the decision in a Friday statement and stressed adherence to the rule of law and not to influence or interfere in the work of investigative authorities, especially as unilateral actions do not achieve the interest of the two countries and do not serve efforts to uncover the truth and reach justice.
ANSA reported that Rome prosecutors are set to investigate seven agents of the Egyptian secret service in a probe into an alleged abduction of Regeni and his torture and murder in Cairo in early 2016.
Regeni, a 28-year-old Italian University of Cambridge PhD student, was conducting field research in Cairo regarding the independent trade unions in Egypt when he disappeared January 24, 2016 in central Cairo, amid a high presence of police in the area who were anticipating protests.
His mutilated body, bearing signs of torture, was discovered on a desert roadside on February 6 2016.
Initially, Egyptian police officials suggested Regeni died in a road accident. However, an Italian autopsy showed that Regeni's body was covered with cuts, and his bones were broken, indicating that he had been beaten with "fists, batons and hammers."
Egypt has emphatically denied that its police were involved in his abduction, torture, or death.
The Regeni case has strained ties between Egypt and Italy, which recalled its ambassador over the case. Relations were restored in August 2017 when Rome said it would return its ambassador to Cairo and continue to search for Regeni's killers.
Edited translation from Al-Masry Al-Youm