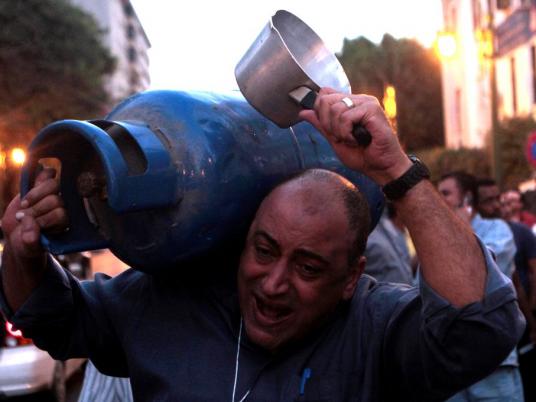 Egypt raised the price of state-subsidized cooking gas for the first time in two decades on Monday, a government official said, trimming an unaffordable subsidy bill but increasing the risk of unrest.
The price rise comes two days before an IMF mission arrives in Cairo to continue talks on a $4.8 billion loan needed to stave off a budget crisis and support a fast-weakening currency.
Paralysed by political and economic instability since President Hosni Mubarak was ousted more than two years ago, the government is now scrambling to pay for vital food and fuel imports and Egypt's foreign reserves are at a critical level.
Progress in reducing the state subsidy bill would help Egypt secure a long-awaited deal with the IMF.
The government increased the price of cooking gas cylinders sold for domestic use by 60 percent to 8 Egyptian pounds ($1.18) a bottle, and doubled it for the bigger bottles used by businesses, an official at the supplies ministry said.
Although it marks a big rise, Egyptians had grown used to paying as much as 50 pounds a bottle last year on a black market where the state-subsidized gas bottles are sold at a mark-up.
Those prices have now fallen to 10 to 15 pounds a bottle, according to Egyptian media reports.
The official said the move was part of a government reform programme to bring down the cost of subsidising energy. He said the price for butane gas cylinders would rise to 16 pounds for commercial use from the current price of 8 pounds.
Citing the ministry, the state news agency MENA said anyone found overcharging in the future would face "tough punishment according to the law which could include prison sentences". It did not say how the distribution system would be improved.
But according to private gas storage dealers the decision had disrupted supplies because the government had failed to consult them, said Hissam Arafat, head of the petroleum products' department at the Chamber of Commerce Association.
"All butane gas stations have stopped working nationwide in confusion over the surprise decision," he was quoted as saying by MENA.
Dealers were demanding a price of 9 pounds a bottle for domestic use, Arafat said, adding that the state-owned butane gas company was only able to supply 6 percent of the market.
IMF talks
The IMF delegation is due to arrive on Wednesday.
President Mohamed Morsy initialled an IMF agreement in November but postponed ratification in December when a row over the extent of his powers triggered unrest.
In another step to curb the energy subsidy bill, the government has said it plans to introduce a new fuel rationing system from July 1 – the start of Egypt's fiscal year.
But in a sign that implementation could be delayed, the oil minister was quoted as saying the government had planned for a scenario in which implementation is delayed until January, and another where it is put off until the next financial year.
The business daily al-Alam al-Youm quoted the minister, Osama Kamal, as saying the government had projected a fuel subsidy cost of 99 billion Egyptian pounds ($14.55 billion), assuming the system was introduced on time.
But this would rise to 120 billion pounds if it were introduced in January and 140 billion pounds if it were not introduced at all.
Shortages of state-subsidized diesel have paralysed transportation in parts of the country.