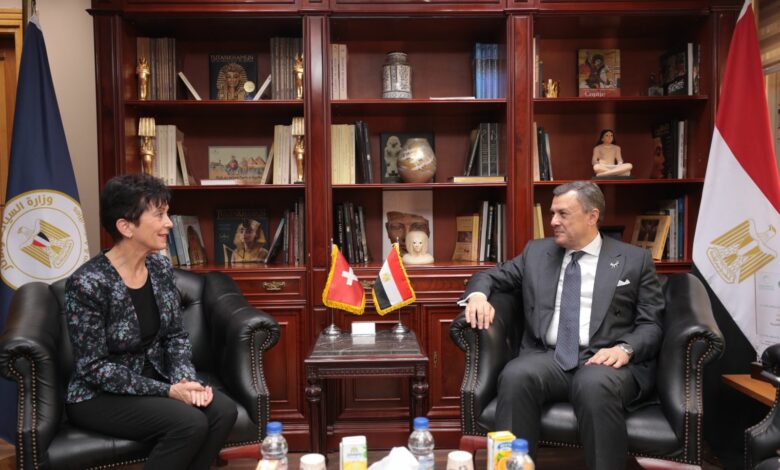 The Egyptian Minister of Tourism and Antiquities, Ahmed Issa, received the Swiss ambassador to Egypt Yvonne Baumann to discuss ways to expand the horizons of cooperation between Egypt and Switzerland in tourism and antiquities.
At the beginning of the meeting, the minister welcomed the ambassador, stressing the strong relations between Egypt and Switzerland.
The meeting reviewed the indicators of the incoming tourist movement to the Egyptian tourist destination from Switzerland.
They also discussed pushing for more tourism from Switzerland in light of the increasing Swiss demand for the Egyptian beach and archaeological tourist destinations.
The talk also touched on enhancing cooperation opportunities in the field of hospitality and hotel building, capacity-building, and trained cadres for workers in the tourism sector, in addition to cooperation in developing archaeological sites and raising the efficiency of tourism services provided there.
The meeting also discussed ways of cooperation in regard to archaeological research as part of a Swiss initiative to study Egyptian mummies.
For her part, Ambassador Baumann affirmed her country's commitment to supporting Egyptian efforts in the field of recovering smuggled antiquities and cultural property and the products of surreptitious excavations.
Baumann previously hosted a reception in October celebrating a historic textile machinery export transaction between Switzerland and Egypt.
"Switzerland and Egypt share a history of fruitful collaboration in the textile sector, which dates back to the 19th century. This most recent agreement is in line with the two countries' tradition in this field, and I am certain that Egypt will incorporate it into it successful strategy to further increase its exportation of high-quality textiles," the ambassador said.