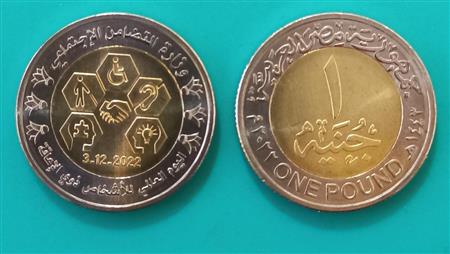 Egyptian Finance Minister Mohamed Maait on Sunday announced that the state has minted three million Egyptian pound coins commemorating people with disabilities.
A statement by the ministry said that people with disabilities prove every day their solid will and ability to overcome all manner of challenges, which showcases their ability to contribute to Egypt's development.
The statement added that the issuance of the coin is consistent with the state's efforts to fully integrate disabled peoples into society.
The Head of the Public Treasury and Mint Authority Hossam Khedr said that these coins are a tool to express national appreciation for the personalities and groups that influence various political, cultural, social spheres, which includes disabled citizens.
He explained that the issuance of these coins contributes to the development of national awareness of the important role of these personalities and groups.
Khader said that the best design for the logo of people with disabilities was chosen from among four designs prepared by the Public Treasury and Mint Authority.