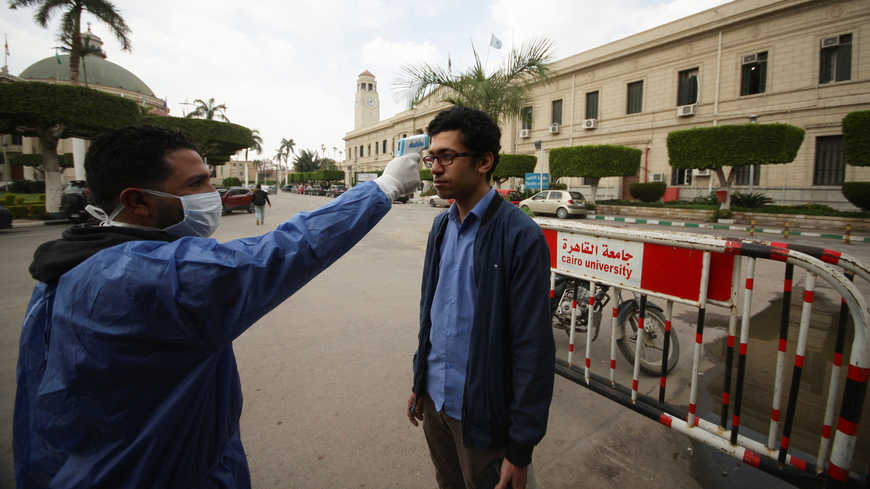 Coronavirus cases are surging in Egypt, according to data announced by the Egyptian Ministry of Health and Population, which prompted government authorities to announce a reduction in attendance at work places, and to reduce the number of students in schools and universities.
The number of new infections have nearly doubled recently, reaching 1,533 cases on Friday compared to January 1, when it was 783 cases.
The privately-owned al-Shorouk newspaper reported Thursday, that the governorates have began to reduce human densities in government departments to confront the surge.
The General Authority for Educational Buildings announced a 20 percent reduction in the number of workers who come to workplaces, effective every day starting from Sunday and valid until the end of February.
The spokesperson for the Health and Population Ministry Hossam Abdel-Ghaffar, said that it is currently considering to reduce the number of students attending schools and universities.
He explained that consideration is also being given to extend the school day in universities so that there are fewer numbers.
And they will also ensure that the distance between each student and another is not less than a meter.
Egypt's Presidential Adviser for Health and Preventive Affairs Mohamed Awad Tag-Eddin said that the number of infections wilk continue to rise until March or April, in light of fluctuating weather conditions and the spread of the influenza virus.
Tag-Eddin stressed the state's commitment to implement preventive measures against coronavirus and to ensure that they are adhered to in all gathering places.
He further stressed implementing all means of prevention and disinfection, ensure there is no crowding in public and government places, and stressing the importance of being vaccinated.
He explained that during his meeting with the Egyptian President Abdel Fattah al-Sisi he discussed the details of the situation of coronavirus in Egypt, the spread of the Omicron variant, and Egypt's continuation of taking all preventive measures against the virus.