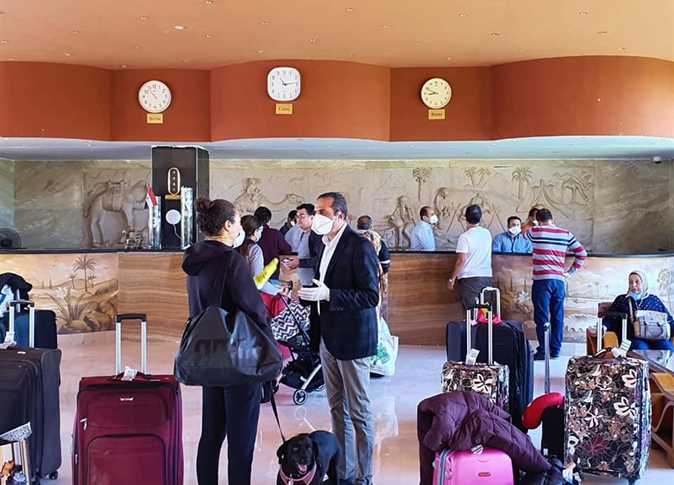 Egypt's Ministry of Civil Aviation on Friday announced that four flights have departed to Washington, Moscow and Kiev to return Egyptians left stranded there as a result of the coronavirus outbreak.
Ministry sources confirmed that two of the flights, operated by EgyptAir and Air Cairo, left the Cairo International Airport to airports in Washington and Moscow, while two flights went to Kiev.
These four flights are scheduled to arrive at Marsa Alam International Airport according to the sources. The returnees will then enter quarantine for 14 days as part of the Health Ministry's guidelines to ensure they are clear of the virus.
On Friday the Marsa Alam airport received six flights carrying Egyptians stranded in the US, Russia, Ukraine, Ethiopia, Kenya and Nigeria following the suspension of international air traffic, as part of special charter flights bringing stranded Egyptians back home.
Officials from the Health Ministry said that the returnees underwent medical examination upon their arrival, and quarantined in hotels in Marsa Alam.
Both passengers and crew of the aircraft were subjected to quarantine procedures, while samples were taken and sent to laboratories to ensure the passengers were free of infection.
The Civil Aviation ministry has thus far organized a total of 20 flights returning stranded Egyptians to Marsa Alam airport.
These charter flights are scheduled to continue until May 5.
The Marsa Alam International Airport in the past few days received flights from Saudi Arabia, Morocco, Algeria, Bahrain, Germany, the Netherlands, Serbia, Thailand and Kuala Lumpur, received by Marsa Alam Airport authorities, Red Sea agencies and medical teams.