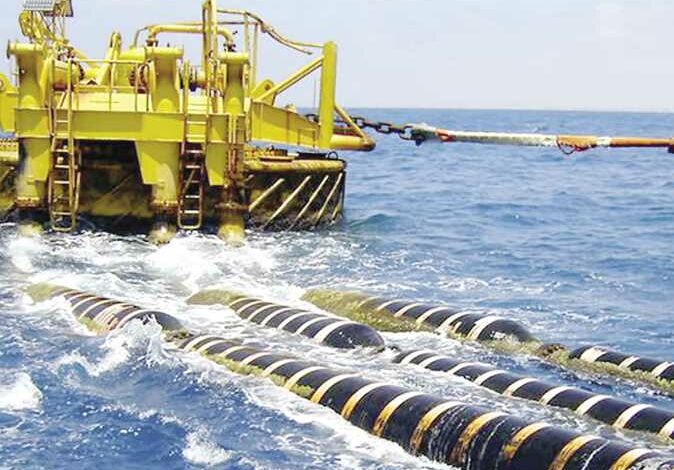 Egyptian Minister of Communications and Information Technology Amr Talaat announced Saturday, that technical studies are currently underway for laying a submarine cable at a cost of about US$60 million, linking Egypt and Greece to transmit data.
A memorandum of understanding was signed recently according to an agreement between the two countries to extend a fiber-optic cable through the Mediterranean Sea.
The minister said that the current stage will witness the start of technical studies to determine the route of the cable under the waters of the Mediterranean Sea between the two countries.
Talaat explained that Egypt's strategic location allows it to play a vital role in transferring data between East and West.
Egypt's plan first included supporting local networks by increasing the number of paths in the country to find alternatives in the event of a failure of one of the paths so that the service is not affected.
The minister added that about 5,000 kilometers of new paths have been extended, in addition to the establishment of four landing stations to increase the efficiency of services.
The next step is to forge new partnerships with countries that have a strategic capacity in the field, he said including Greece, explaining that there are currently working paths with Italy and France across the Mediterranean Sea, and establishing a new cable with Greece will contribute to the multiplicity of connection paths with Europe.
Talaat added that Greece seeks to have a role in transferring data and has begun to position itself to be the eastern gateway to Europe on the Mediterranean Sea.
He explained that the operation of a submarine cable across Greece will contribute to enhancing data transmission operations and increasing availability, noting that the goal is to increase network capabilities and ensure redundancy to ensure the sustainability of services.
Talaat noted the possibility of extending other cables with new parties in Europe.
He visited the Greek capital, Athens, on Thursday, where he witnessed the signing of a memorandum of understanding between Telecom Egypt and IPTO to lay a submarine cable between the two countries.
The minister said that the construction of submarine cables between the two countries will serve the huge flow of data worldwide, which is increasing exponentially.
Talaat explained that Egypt's distinguished geographical location makes it a hub for data traffic between Asia, Africa and Europe, where more than 100 terabytes of data are transferred to Europe with more than 13 submarine cables.
He noted that the submarine cables are scheduled to reach 18 cables within three years, and planning is underway to launch the HARP cable spanning around the continent of Africa by 2023.