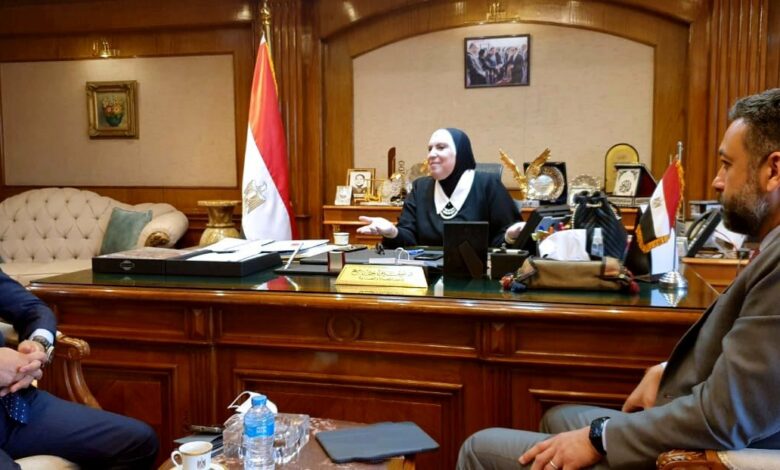 Egyptian Minister of Trade and Industry, Nevine Gamea, held talks on Sunday with the regional CEO of Procter & Gamble International for Egypt and North Africa Samir Lebbar about the company's current and future investment plans in the Egyptian market.
The meeting also reviewed aspects of cooperation to maximize the company's role in the Egyptian economy.
It was attended by a member of the company's board of directors and general manager of foreign relations for the company in the North African region Tamer Younes.
Gamea praised Procter & Gamble's decision to open the latest new production line for the production of liquid detergents, which were imported from abroad in order to meet the needs of the local market and export to foreign markets.
She noted the importance of expanding the company's projects in the Egyptian and African markets, especially in light of the ministry's plan to develop joint economic cooperation with a number of major eastern and western African countries to help them build a manufacturing base with Egyptian expertise, which is reflected positively on the rates of inter-trade and joint investments.
Gamea also noted the successful promotional missions organized by the ministry in cooperation with the Attejari Wafa Bank for the countries of Cameroon and Senegal, which contributed to achieving export contracts for Egyptian companies in the two countries.
Coordination is currently underway to organize other missions to a number of West African countries.
Egypt's political leadership attaches great importance to developing industry, she said, in particular to deepening local industrialization and substituting imported products with national ones in light of the industrial capabilities that make Egypt a pivot for manufacturing and exporting globally.
Lebbar said that his company is committed to deepening local manufacturing and increasing Egyptian exports to global markets in general and the markets of Africa in particular.
He also assured his company's keenness to benefit from the network of preferential free trade agreements signed by a large number of countries and major economic blocs.
Lebbar explained that the company has been working in the Egyptian market for more than 30 years, and its investments currently exceed LE 3.5 billion.
It provides about 1,300 direct job opportunities and 10,000 opportunities in support services for the company's business in Egypt, and exports to 37 countries around the world with total annual exports, amounting to $250 million.
He said that the company's branch in Egypt is one of the three main branches responsible for planning the company's supply chains in the Asia Pacific region, the Middle East and Africa.