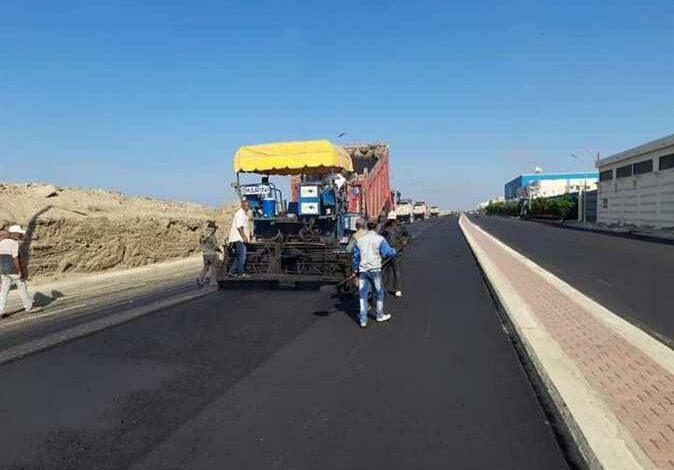 Minister of Petroleum and Mineral Resources Tarek al-Molla announced Saturday, that local production of asphalt is being increased by 50 percent to meet the demand of the National Roads Project currently being implemented, and to reduce import quantities.
The National Roads Project was launched in August 2014 as part of President Abdel Fattah al-Sisi's program which aims to create new roads of 3,300 km length at a total cost of about LE 36 billion.
Molla's statements came during his inspection of some new strategic petroleum projects in Suez, with the aim of identifying the latest developments in their implementation.
The minister and his entourage also inspected the trial operation of the new asphalt production project.
Molla further inspected work done to establish three storage warehouses for the asphalt product with a total capacity of 9,000 cubic meters, in addition to a platform to facilitate the work of shipping asphalt at a total cost of about LE 139 million.
The minister stressed that these vital projects work on developing production units as one of the main pillars of the national project to transform Egypt into a regional center for oil and natural gas trade/circulation, as well as their effective contribution to the sustainability of securing the local market's needs of high-quality petroleum products.
Molla said that the new asphalt production project has a production capacity of about 1,200 tons of asphalt per day, at an investment cost of about LE970 million.
Prime Minister Mostafa Madbouly recently ordered to expedite the implementation of the projects of the Transport Ministry across the country, which will contribute to achieving comprehensive development.
He said that the state attaches great importance to all roads and axis projects, in addition to its electrical train network system.
This came during Madbouly's meeting with Transport Minister Kamel al-Wazir, in the presence of the Chairman of the Board of Directors of the General Authority for Roads and Bridges Hossam Eddin Mostafa, to review the position of some projects that the ministry is currently implementing.
Edited translation from Al-Masry Al-Youm