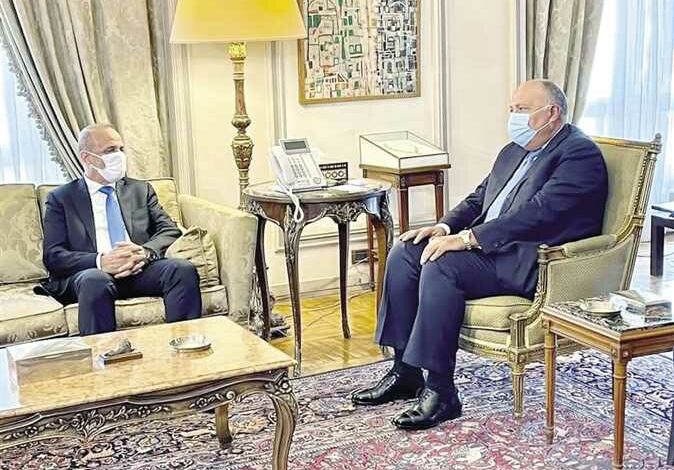 Egyptian Foreign Minister Sameh Shoukry stressed on Saturday that all foreign forces, in addition to foreign fighters and mercenaries, must exit Libyan territory in order to bring peace and stability.
This came during Shoukry's reception to the Vice-President of the Libyan Presidential Council, Abdullah Al-Lafi, and his accompanying delegation.
Shoukry also reiterated Egypt's full support for Libya as an independent and sovereign state over its entire national territory.
He affirmed that his country is ready to harness all its capabilities in helping Libya overcome its current hurdles, which will require coordination of efforts across international forums, or by by building on the current momentum in bilateral relations.
Egypt supports the steady steps taking place in Libya to fulfill the political roadmap approved by Libyans, he said, leading to holding the presidential and parliamentary elections on their scheduled date.
He called this a pivotal step forward in Libya's march for a better future.
The Egyptian Foreign Minister also praised the efforts of the Libyan House of Representatives which led to the issuance of the presidential elections law, and its assumption of its responsibilities to implement the law in coordination with all concerned Libyan parties.
Lafi expressed his country's appreciation and pride in Egypt's supportive role in Libya and efforts to stabilize it.
He praised the positive developments in the bilateral relations between the two countries, based on the extended historical and popular ties that unite them, and Libya's desire for Egypt to continue its role in the reconstruction and development of Libya.