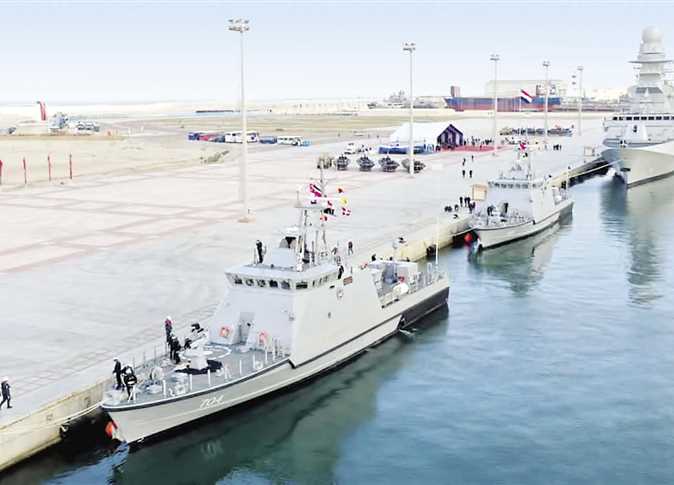 The first of the "FREMM Bergamini" frigates constructed by Italian company Fincantieri arrived at the Alexandria Naval Base on Thursday to join the Egyptian Navy's fleet.
Egypt's navy has recently been witnessing a huge technological breakthrough in its armament systems and combat efficiency, which this frigate is the latest of.

The FREMM Bergamini frigate, dubbed "al-Galala", is one of two frigates that Egypt and Italy have contracted on.
The new multi-mission frigate is characterized by the ability to sail for a distance of 6,000 nautical miles. It features many technical characteristics and modern weapons systems allowing it to carry out all combat missions in the sea in peacetime and war.
The frigate enhances Egypt's ability to secure borders and shipping lines, support and protect land forces along the coast during offensive and defensive operations, and secure natural resources in the Mediterranean and Red Seas.
The specialized and technical crews working on the new unit were prepared and qualified in record time, according to a simultaneous program implemented in two phases in Egypt and Italy.
Egyptian naval forces back in 2018 carried out transit maritime training with British and Italian naval forces in the Mediterranean Sea, as part of General Command of the Egyptian Armed Forces' plan to strengthen military cooperation with friendly countries.
The military spokesperson tamer al-Refai said through a Facebook statement that the training was attended by several Egyptian navy vessels, the Italian frigate "ITS CARABINIERE" and the British frigate "RFA LYME BAY."
Such exercises confirm the depth of military relations with friendly countries and the readiness of these united forces to deal with the various threats and hostilities in the Mediterranean Sea.