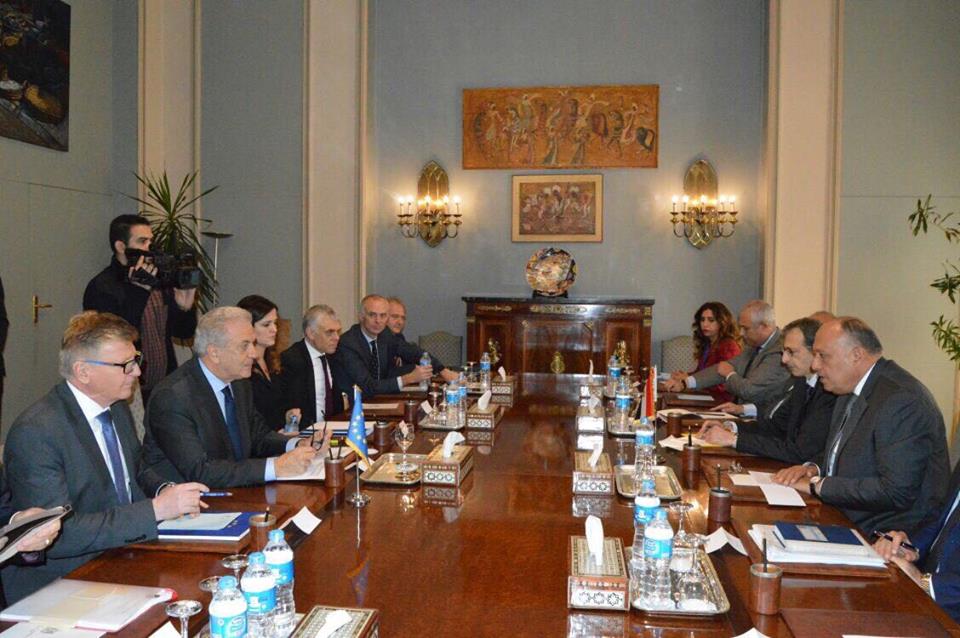 Foreign Minister Sameh Shoukry said on Saturday that his government has rejected the establishment of refugee camps in Egypt.
Shoukry made the remarks during his meeting with European Commissioner for Migration, Home Affairs and Citizenship, Dimitris Avramopoulos, who is currently visiting Cairo.
Foreign Ministry spokesperson Ahmed Abu Zeid added in a statement that Egypt is keen to integrate refugees into Egyptian society and for them to have a role in all aspects of public life in accordance with legal and humanitarian considerations but that the country has received little international support.
Shoukry and Avramopoulos aimed in their meeting to launch the first round of high-level institutional dialogue on migration between Egypt and the European Union (EU) — the first type of meeting that has shown constructive dialogue between the two sides, Abu Zeid said in the statement.
Shoukry noted that Egypt has been successful in dealing with irregular migration, indicating that the number of irregular Egyptian migrants in the Mediterranean has recently declined.
No ship has been detected leaving the Egyptian coast for Europe since September 2016, Shoukry said.
The European official underlined the European Union's commitment to cooperating with Egypt in combating irregular migration, saying that a sum of $60 million has been allocated by the EU for the first phase of this cooperation.
Edited translation from MENA