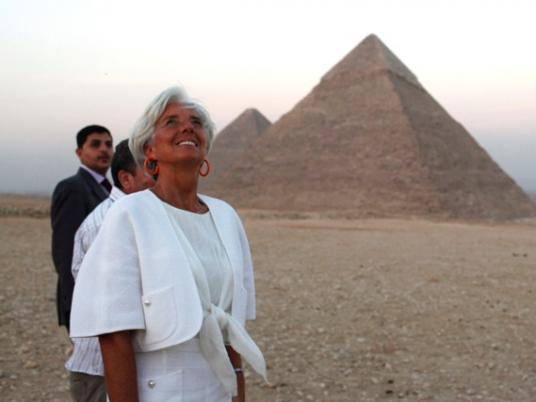 Egypt rejected on Monday any link between stalled parliamentary elections and its drive to secure a loan from the IMF as it struggles with a budget and foreign currency crisis.
Talks on Sunday between Prime Minister Hesham Qandil and a top International Monetary Fund official produced no agreements on anything specific, but had paved the way for the arrival of an IMF technical team soon, the government spokesperson said.
Egypt is seeking a US$4.8 billion loan from the International Monetary Fund to ease an economic crisis rooted in more than two years of political turmoil since the overthrow of former President Hosni Mubarak.
Cabinet spokesperson Alaa El-Hadidi said Sunday's talks with the IMF's Director for the Middle East and North Africa Masood Ahmed had covered the loan, which was agreed in principle last November but put on hold at Cairo's request during violent street protests.
"All the discussion was about financial support or the loan that Egypt aims to obtain from the Fund," said Hadidi. "There is no link between the loan and parliamentary elections."
The IMF has appeared reluctant to negotiate a full deal given Egypt's current deep political uncertainty.
Elections to the lower house of Parliament, which was dissolved in the middle of last year, were supposed to start next month. However, a court cancelled President Mohamed Morsy's decree calling the polls and a state appeal against the ruling was postponed on Sunday for a week.
The IMF has raised the possibility of a relatively small bridging loan to help tide Egypt over, and Ahmed was cautious on Sunday on the chances of a loan materializing.
"We agreed that our discussions would continue diligently over the coming weeks with the aim of reaching agreement on possible financial support from the IMF," Ahmed said.