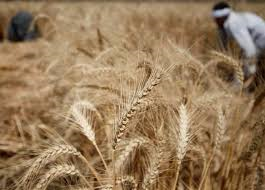 The Egyptian Supreme Administrative Court on Saturday ruled in favor of an appeal, presented by the State Lawsuits Authority, against the ban over imports of Russian wheat after they were found to contain traces of Ergot fungus.
This coincides with Moscow's Russian-Egyptian summit on Wednesday. With the attendance of a Russian-Egyptian Business Council representative, the summit discussed technical problems that could present a hurdle in agricultural trade, particularly in wheat and potatoes.
Central Administration for Agricultural Extension and the Environment Head Ahmed al-Attar told the press that the meeting included ministers of trade from both countries as well as the Egyptian embassy in Moscow, and concluded with a cooperation agreement in the field of agriculture, including the establishment of agricultural and animal quarantines.
Attar also said that Egypt requested that Russia lift their ban on eight pieces of land, which has been ongoing since 2015 after rot was found in several potatoes. On the other hand, Moscow promised to lift the ban after all studies were completed.
The countries have agreed that the import ban should only apply to crops from pieces of land that were proven infected, and not to the whole region. Attar told press that the Russians have already agreed and await the results of studies they require from the Egyptian side to determine the proper potatoes for use.
This issue began in 2016, when a lawsuit was filed by lawyer Tarek al-Awady against the Egyptian prime minister and ministers of agriculture, health, and supply, arguing for the ban of Russian wheat imports due reported infection.
That same year saw Egypt no longer abide by the international 0.05 tolerance limit on fungus in wheat imports, instituting a zero-tolerance policy instead.
Egypt is the world's largest importer of wheat and receives almost one-third of Russian wheat exports.