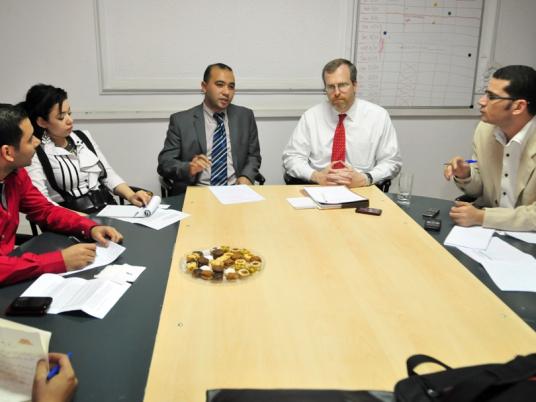 Egypt reopened a major downtown Cairo metro station on Wednesday after a two-year closure, signalling government confidence in the security situation despite several low-level attacks in the capital.
Located below Tahrir Square, a symbol of the popular uprising that toppled veteran leader Hosni Mubarak in 2011, Sadat metro station is one of only two stations linking the network's two main lines.
Authorities shut the station in August 2013 when hundreds of supporters of former Islamist President Mohamed Mursi, ousted by the army after mass protests against his rule, were shot dead at two Cairo protest camps and thousands more rounded up.
Egypt has defended its actions against protesters, saying they were given opportunities to disperse peacefully, and blamed Muslim Brotherhood militants for the violence.
The station opened to little fanfare early on Wednesday with a large security presence.
Metal detectors, surveillance cameras, baggage screening x-ray machines and half a dozen policemen greeted commuters at the station's entrances, not all of which were in operation.
Policemen were posted at turnstiles, checking tickets manually. A row of plain-clothed policemen brandishing assault rifles and uniformed conscripts also stood guard inside the station. Policemen manned each side of the platform.
"Opening the station is a very good thing. It shows the return of security and the government's control over the Egyptian street," said commuter Samuel Aziz, a doctor.
"This sends a message of assurance to the Egyptian people, foreign investors and people in other countries that stability has returned to Egypt."
One woman passenger ululated joyfully, another group of women chanted "Long live Egypt," as they alighted.
Militants have stepped up attacks since Mursi's ouster. While most of the worst attacks have hit the Sinai Peninsula, the focus of an insurgency, smaller blasts have become increasingly common in Cairo and other cities.
A suicide bomber blew himself up near the ancient Karnak Temple in the southern city of Luxor in June, wounding four Egyptians.
The outlawed Muslim Brotherhood has called for a "popular uprising" to be held on Friday after a court sentenced Mursi and other Brotherhood leaders to death on Tuesday.
But with thousands of Islamists jailed, it is unlikely that Friday will see a big turnout.
Authorities say the Brotherhood is a threat to national security; the group says it is committed to peaceful activism.