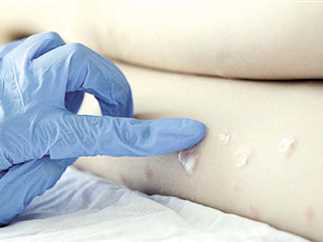 The spokesperson for the Egyptian Ministry of Health, Hossam Abdel-Ghaffar, said that there are no positive cases of monkeypox in Egypt.
During a Monday telephone interview with the "Masaa dmc" on dmc channel Abdel-Ghaffar stressed that the Ministry of Health and Population is following the global epidemiological situation very carefully.
He also explained that monkeypox is a rare viral disease that is transmitted from animals to humans and to a greater extent from rodents, by being bitten, scratched or eating undercooked meat of an infected animal.
The symptoms are shared with that of the ordinary chickenpox, he added.
Abdul-Ghaffar said that the transmission of chickenpox from human to human is not easy, as this occurs through prolonged close and direct contact.
What is most noticeable in the current cases of infection is the absence of a travel history for any of them to the countries where the virus is endemic in West and Central Africa, he said, and that it has spread across people in engaging in homosexual relationships.
Abdel-Ghaffar confirmed that regular chickenpox vaccinations proved to be 85 percent effective with monkeypox.
He stressed that the monkeypox virus mutation is very weak, noting that "the precautionary measures from it are the same as those used in coronavirus."