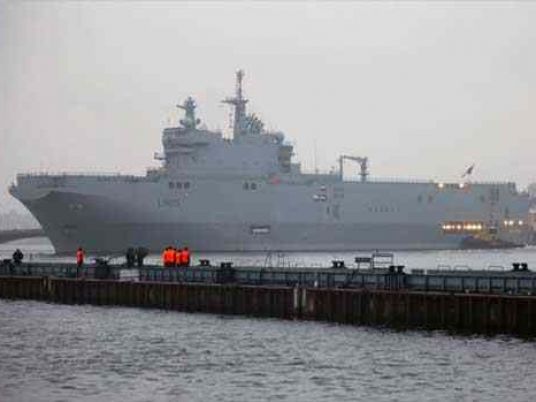 Egypt will sign a deal with France for the purchase of two Mistral helicopter carriers during an ongoing visit by French premier Manuel Valls, Egypt's ambassador to Paris, Ehab Badawy, has said.
The deal, which was announced in September, is worth 950 million euros (US$1.06 billion).
This will be Egypt's second arms deal with France after the country bought 24 Rafale fighter jets and a FREEM frigate last February, a deal estimated at 5.2 billion euros.
The current year has witnessed Egypt's inclination toward diversifying its armament resources. Acting as defense minister in February 2014, President Abdel Fattah al-Sisi signed an arms supply agreement with Russia worth US$3.5 billion. Negotiations over that agreement resumed during Sisi's Moscow visit in August 2015.
At that time, the Russian Itar-Tass agency reported that both countries had signed an MoU for the supply of 12 Russian Suhkoi superjets. The deal, signed with Russia's Irkut, also involves other arms supplies, including fourth generation MIG-29-M fighter jets, Mi-35M fighter helicopters, S-300VM and Tor-2ME anti-aircraft rockets, a Bastion coastal missile system, Mi-17 personnel carriers and Cornet anti-tank missiles.
In August, Newsweek said the British government resumed arms sales to Egypt following the partial suspension of those sales following Egypt's 2013 uprising.
According to the magazine, the UK's arms sales to Egypt surpassed 48.8 million pounds during the first three months of 2015. Licenses provided for the sales show they include components for military combat vehicles.
Edited translation from Al-Masry Al-Youm