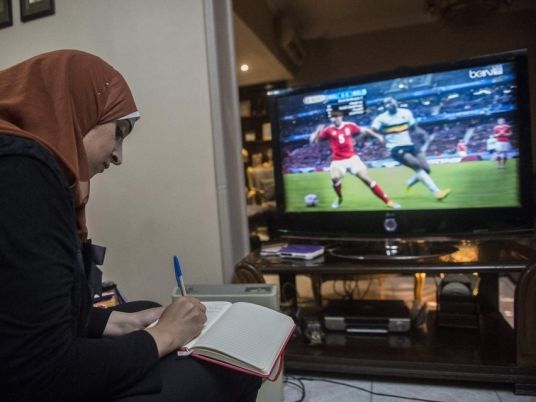 Manar Sarhan disinfects her hands after filling a patient's tooth, readying to catch the Euro 2016 match and analyse it for a newspaper as Egypt's first woman in mainstream football punditry.
Sarhan, 27, appears weekly on the private CBC television channel to comment on matches in the competition, a rare sight in a field monopolised by former football players, all of them men.
"I chose dentistry as a career with my mind, but football is my passion and love," Sarhan tells AFP in a private clinic where she freelances as a dentist.
"I tried to play football in the beginning but I didn't find a good opportunity in Egypt and I think specialising in analysing football makes up a lot for it," she says after examining a patient.
Sarhan began working in journalism as a volunteer in 2002, using a basic camera to capture footage for the website of her favourite Egyptian club: Zamalek.
Sarhan began writing for the independent Al-Masry Al-Youm newspaper and the popular Fil Goal website before she was picked up by satellite sports programmes.
By day, Sarhan works in a government medical centre and chips in at a clinic owned by one of her friends. At night, she clears her schedule to follow games and to read the latest in the world of football.
"I'm a dentist by day, and a football commentator by night," Sarhan says, laughing as she packs her medical instruments.
"The effort put into commentary is more in spite of the return being lower," she says.
A man's playing field
A profitable profession, dentistry is respected by Egyptians. It was not easy to enter the sports commentary world, especially as a woman.
"The field is already difficult for male youths, so what about a girl?" says Sarhan, who decorates her bedroom with posters of Egyptian and European football players.
"I was mocked in the beginning. They would tell me 'Girls belong in kitchens'," she says.
Her large following on Twitter suggests otherwise.
Top European clubs and their games are popular viewing in Egypt, and Sarhan has proven to be an expert in the field.
Ibrahim Fayek, an anchor at CBC, says hosting Sarhan was "very strange" in the beginning because she is "a lady and a dentist".
Now, he says, he is doing his best to keep her on his show as competitors try to poach her.
"Manar has an expansive and deep understanding of football and she presents a different type of football analysis. Her explanation of the different teams' plans and tactics surprised me," Fayek tells AFP.
At home, Sarhan sits close to a large screen broadcasting Belgium against Wales, jotting down statistics on passing and the players' movements.
Nearby lies an old copy of Britain's World Soccer magazine, with the cover featuring Zinedine Zidane, who she said inspired her love for Real Madrid.
"I would watch a match twice before writing any comprehensive technical analysis," she says.
Her passion for football inspired Sarhan to learn Spanish so she could track La Liga and the club she supports from original sources.
She plans to also learn Italian and Portuguese to expand the sphere of European football that she can follow.
Sarhan also follows Spanish youth matches and teams that are less well-known to be able to keep abreast of up-and-coming talents.
In one corner of her house rests a ball which her mother says Sarhan still kicks around in the hallway.
"Manar has loved football since she was a child. I wanted her to continue her studies in her profession, but she is happy commentating," her mother Magda Al-Hawary says with evident pride.
Sarhan's dream goes beyond Egypt's borders.
"My dream is to work in the field of European football in Spain itself, to become international."