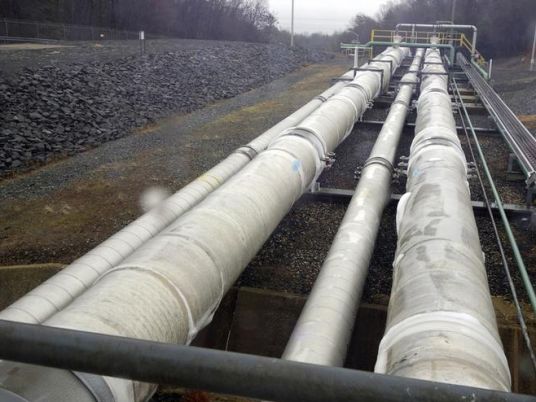 A huge gas find in Egyptian waters is set to speed exploration activity in the area after a lean decade of discoveries, while neglecting the wider Mediterranean whose total estimated reserves theoretically rival those of east Africa.
Italian oil group Eni's discovery of the Zohr field off the coast of Egypt is the Mediterranean's biggest ever, holding an estimated 30 trillion cubic feet (tcf) of gas and fueling interest in the scantily explored region.
The US Geological Survey pegs technically recoverable gas reserves in the Mediterranean at around 411 trillion cubic feet, but without seismic surveying to pinpoint actual deposits, interest is thin outside of proven hot spots such as Egypt.
The politics of Mediterranean countries are also complex and confusing, burdened by red-tape and subject to sudden energy policy U-turns, keeping explorers at bay, the International Association of Oil and Gas Producers said.
Still, the region holds up on paper as a potential heavyweight against red-hot plays in east Africa, where the USGS in 2012 estimated probable, undiscovered reserves of 441.1 tcf.
Companies from Anadarko to BG Group are gearing up to build giant gas export plants in Mozambique and Tanzania.
Yet Europe's falling gas output and declining drilling activity is boosting import reliance on Russia.
One leading seismic survey company says Mediterranean demand is focused mostly on Egyptian waters.
"We have just completed a large survey for an oil company offshore Egypt, we haven't done much in the western Med," said Bard Stenberg, vice-president of investor relations at Petroleum Geo-Services.
Part of the problem is that the Mediterranean's diverse geology inclines explorers to stay in areas with proven reserves and exploration-friendly governments.
"(Egypt's) Nile Delta and Israel are geologically distinct and in Libya it changes again," Adam Pollard, upstream analyst at Wood Mackenzie said.
"Exploration will likely intensify around the Zohr field and in neighboring Cypriot blocks," he said.
A glut of cheap oil and gas and bleak European energy demand discourages firms from hunting after west Mediterranean reserves, said Patrick Heather, senior fellow at the Oxford Institute of Energy Studies.
Egypt's turnaround stands in stark contrast to neighbor Algeria where recent licensing rounds yielded slim pickings, while Libya's descent into chaos thwarts new investment.
Further west, Italy's gridlocked permitting system has effectively stranded two-thirds of its offshore exploration acreage, geological research papers show.
The country's oil and gas association says 700 million tonnes of oil equivalent lie offshore with potential to slash imports.
Spain is a similar story.
Only Israel has rivaled Egypt in producing giant offshore finds like Leviathan, with 22 tcf of gas, but policy reversals have rattled investors. Ongoing antitrust wrangles have also frozen development work on Leviathan.
Comparisons with the North Sea, which has produced around 127 tcf of gas already and is the world's fourth and third biggest oil and gas producing province, respectively, are premature given the Mediterranean's nascent exploration efforts.
One of many advantages North Sea producers have are harmonized regulatory frameworks perfected over decades to encourage drilling off Britain, Norway and the Netherlands.