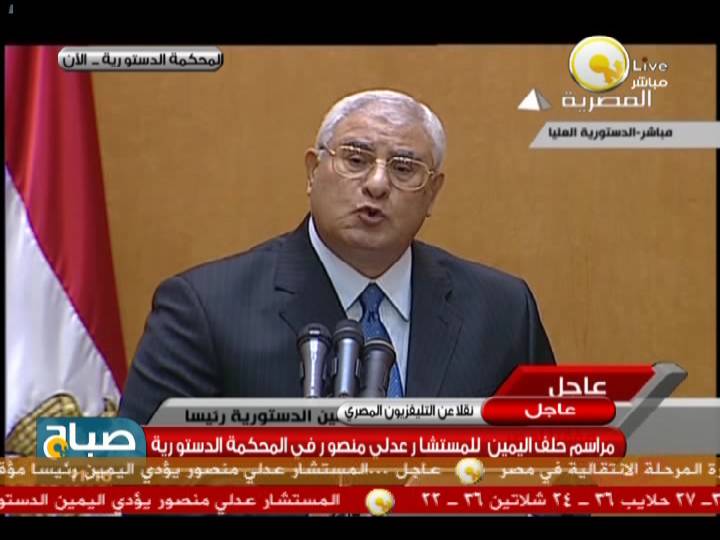 Supreme Constitutional Court head Adly Mansour starts consultations over the formation of a new cabinet Thursday, hours after he had been sworn in as Egypt's interim president, source close to him told Anadolu news agency.
Mansour was appointed by the armed forces in place of Mohamed Morsy who faced days of unrest as anti-government demonstrations demanding early presidential elections threatened his presidency.
The formation of a new, consensual government will be a key task awaiting Mansour as part of a roadmap set by the army in collaboration with a number of political and religious leaders.
Opposition groups have been demanding the removal of the Hesham Qandil Cabinet, apponted by Morsy in August 2012, citing myriad political and economic failures.
Anadolu quoted a source within the opposition National Salvation Front (NSF) as saying that it still authorizes its leader, Dostour Party chairman Mohamed ElBaradei, to lead negotiations with political groups over the new government, adding that opposition groups will not be excluded from helping select the new cabinet minister.
The same source hinted there a number of personalities from the NSF currently being proposed for the post, but declined to name any.
But NSF leader Abdel Gahffar Shokr said the coalition comprises a host of figures highly qualified to head the government, among them Mohamed ElBaradei, prominent surgeon Mohamed Ghoneim, former governor of Egypt's central bank, Farouq al-Oqda, and Hossam Eissa, a law professor at Ain Shams University.