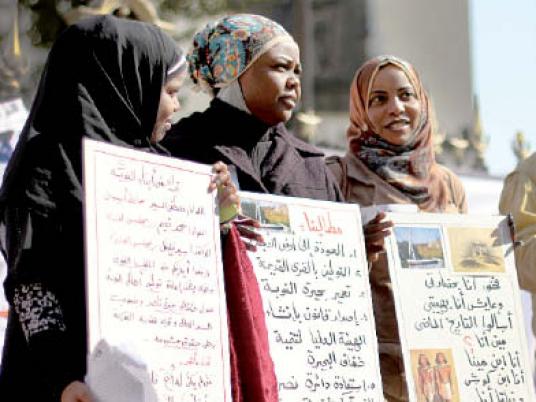 For half a century, Egypt's Nubians have patiently lobbied the government in Cairo for a return to their homelands on the banks of the upper Nile, desperate to reclaim territory their ancestors first cultivated 3,000 years ago.
Yet all their efforts to gain political influence have brought them next to nothing. In Egypt's incoming parliament, which will be finalized after a second round of voting starts on Sunday, the Nubians will hold just one of 568 elected seats.
Many harbor a sense of grievance that dates at least to 1964, when then President Gamal Abdel Nasser forcefully removed the residents of 44 Nubian villages to make way for the Aswan High Dam, moving them to recreations of their villages.
The Nubians were counted in an Egyptian census only once, shortly before they were uprooted. Back then there were 100,000; today, though estimates vary, advocacy groups say they may number as many as 3 million of Egypt's 90 million population.
Although Nubians have not risen up in the past, elders worry about disillusionment among the young and the threat of unrest on Egypt's southern border with Sudan.
Thirty people died in clashes last year between the youth of a Nubian village and those from a nearby Arab tribe.
"We cannot guarantee that the new generation will behave in the same (peaceful) way as their forebears," said Mohamed Ezz al-Din, visiting relatives in Adnadan, a new village built to the north in an area called Nasr al-Nuba (Nubia's Victory), to replace one uprooted from the Sudan border for the dam.
"Surely there will be a rebellion. Maybe not against the state, but at least within the community."
Those with longer memories say Nubians have been mistreated since the first damming of the Nile at Aswan in 1902, which reduced the amount of land Nubians were able to cultivate, forcing many of them to migrate north.
Longingto return
For a people that traces its ancestry to the 8th century BC and has produced both an ancient pharaoh and a modern president, the overwhelming desire remains a return to their old villages, including Adnadan and Kostal, also on the Sudanese border.
Last April, the government reopened a border crossing to Sudan at Kostal, and about 30 young men tried to force their way into old Adnadan in the border area to farm and resettle the land. Security forces stopped them.
"We declared a sit-in but it was short lived," said one young Nubian man who took part in the protest, requesting anonymity for fear of reprisals. "We feared a violent response… It was the last ray of hope."
Egypt's latest constitution, enacted last year, said the state "should work" towards the resettlement of Nubians to their ancestral lands within 10 years. President Abdel Fattah al-Sisi has billed Sunday's parliamentary election as a final step to restoring democracy, giving many Nubians hope.
But the reality is the community has little clout and electoral laws have only weakened its position. When Nasr al-Nuba was created in 1964, it went back and forth between being its own electoral district and being part of a larger one, so that only a handful of Nubians have won parliamentary seats.
Sacrifices
"We have been asking for our own member of parliament for a very long time and now it's happening, but one parliamentarian alone will do nothing," said Khaled Hashem, 35, an agricultural engineer from Adnadan. "The state's policy needs to change."
The government has made efforts to placate the community over the decades, providing some compensation in the 1960s and putting a Nubian on the committee that wrote the last Constitution, which was drafted before Sisi became president.
But the results have been mixed and the upshot is ever deeper resentment among Nubians, young and old.
"The Egyptian state's dealing with the Nubians completely disregards all the sacrifices we have made," said Mostafa Abdel Kader, 75, who left the original Adnadan to attend university in Cairo and holds a PhD in the effects of Nubian displacement.
"We gave a lot to the country. An entire community lost its home, traditions, way of life and even the graves of our ancestors, and we did it willingly without a fight," he said.
The concern within Egypt's security establishment is that if Nubians repopulate the border area with Sudan, it could stoke separatist tendencies, even if there have never been credible calls for a standalone Nubian state.
With Egypt's northeastern Sinai Peninsula borders with Israel and the Palestinian Gaza Strip aflame with insurgency and its western border with Libya in turmoil, the last thing Sisi wants is instability on the southern frontier.
But if no progress is made on the vague commitment made in the 2014 Constitution to repatriate members of the community, Sisi may find himself with a burgeoning Nubian problem.
"The younger generation does not have the fear their elders have anymore," said Hashem, the agricultural engineer.