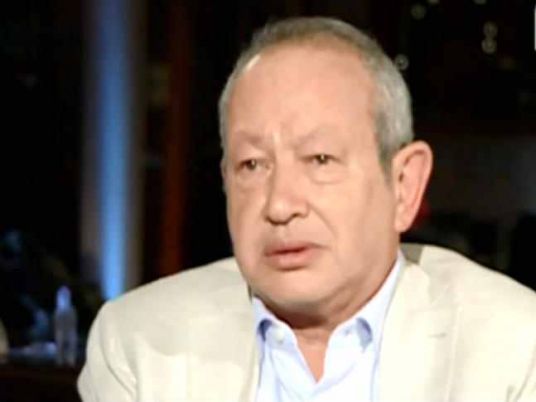 Egyptian billionaire Naguib Sawiris said on Sunday his bid to acquire CI Capital, the investment arm of Egypt's largest listed bank, was being held up by national security concerns. He criticised the state for meddling in business, which he fears will put off investors.
Earlier this year, Commercial International Bank (CIB) signed a deal to sell CI Capital to a unit of Sawiris's Orascom Telecom for 924 million pounds (US$104.06 million).
Sawiris said at the time Sawiris said he planned to merge CI Capital with Beltone Financial, which OTMT bought last year, to create one of Egypt's largest investment firms.
But in a column published by state-owned Al-Akhbar newspaper, Sawiris said the deal was still awaiting security clearance, adding that the hold-up was the latest move by authorities to prevent him owning a large financial institution.
Sawiris's bid for CI Capital was challenged in February when a subsidiary of state-owned National Bank of Egypt made a last-minute counter-offer. It later withdrew after failing to agree with CIB on a timeframe for feasibility studies.
Sawiris said a state bank had also withdrawn a loan offer meant to help finance the deal. He did not name the bank.
"This gives a negative and harmful message to the investment climate, saying to investors be warned if you wish to invest in Egypt because the state will enter and compete with you using public funds," he wrote.
The head of the Egyptian Financial Supervisory Authority (EFSA), which regulates non-banking financial services, declined to comment on whether the CI Capital acquisition was awaiting security clearance or to discuss the approval process.
"EFSA does not comment publicly about the process, or what missing documents are needed or what other clarifications are being sought. Once the paperwork is in order, EFSA issues its decision," Sherif Samy told Reuters.
There was no immediate comment from CIB but banking sources said it was not unusual for regulatory approval to take months.
EFSA rejected in 2013 a bid by a Qatari investor to acquire EFG Hermes, Egypt's largest investment bank, and sources at the time said security concerns scuppered the deal.
Sawiris had also tried unsuccessfully to buy EFG in 2014.
Egypt's economy has been struggling since the 2011 uprising ushered in a period of political instability, driving away foreign investors and tourists – earners of foreign currency.
Confidence initially improved after the army overthrew Egypt's first freely elected president, Islamist Mohamed Mursi, in mid-2013. But a foreign exchange crisis has since hit business sentiment.
"I am no longer able to keep quiet about what is wrong … as for me and my investments, God's land is wide," Sawiris wrote. ($1 = 8.8799 Egyptian pounds)