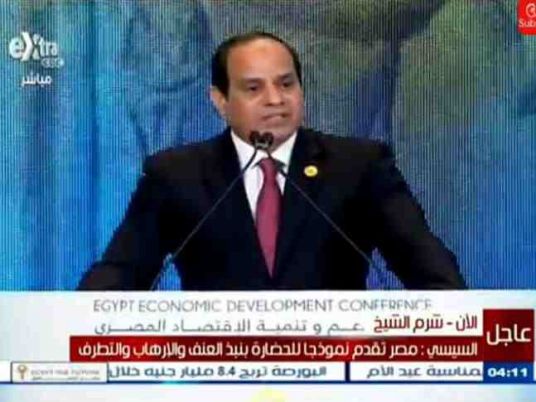 Egypt's President Abdel Fattah al-Sisi discussed with his South African counterpart Jacob Zuma on Thursday means of expanding bilateral cooperation.
Zuma arrived in Egypt on Wednesday, after a short trip to Algeria, at the invitation of Sisi, the South African Foreign Ministry said in a statement.
The South African president invited his Egyptian counterpart to the African Union Summit, to be held in South Africa. Meanwhile, Sisi extended an invitation to Zuma to attend the inauguration of the New Suez Canal.
Zuma expressed his country's aspiration to foster cooperation and coordination withEgypt through the activation of the Joint Commission, established in 1995, to identify areas of cooperation and encourage the private sector in both countries to work together, Egypt's Presidency Spokesman Alaa Youssef said.
Sisi emphasised the importance of holding the Joint Commission in Cairo in the near future, and expanding areas of cooperation covered by the committee to includepolitical, economic and military aspects, Youssef added.