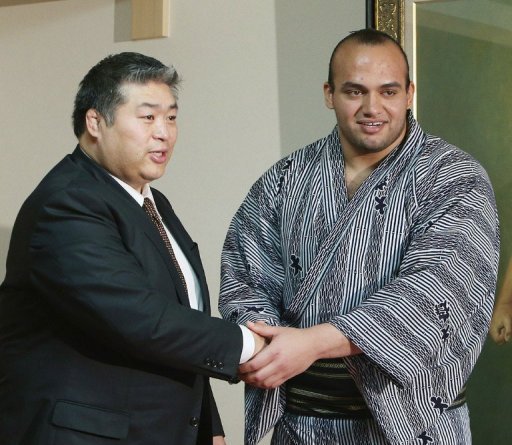 The first professional sumo wrestler from either Africa or the Arab world was given a boost Wednesday, winning promotion to the sport's second highest division in Japan.
The Japan Sumo Association promoted 21-year-old Egyptian Abdelrahman Ahmed Shaalan, who goes by the ring name of "Osunaarashi" (Great Sandstorm), to the "jyuryo" division, made of wrestlers ranked between 43rd and 70th.
"I am very glad," Shaalan told reporters in Japanese at his stable in downtown Tokyo. "I will work hard and aim higher still by practising more and more."
The 189 centimetre- (6 feet 2 inches) grappler, who weighs in at 145 kilogrammes (320 pounds), made his debut in March last year and has lost only six of his 49 regular matches in seven tournaments since.
In the latest tournament, held in Tokyo this month, he won all seven matches.
But the going will get tougher from now on, with wrestlers in the top two divisions fighting 15 times in every tournament.
A devout Muslim, Shaalan will again fast during this year's Ramadan, the Islamic holy month when adherents cannot eat or drink in daylight hours.
"I'll be alright. I can handle it," he said about this year's Ramadan, which is set to clash with the July tournament.
Shaalan belongs to one of about 40 sumo stables. His position in the top 70, known as "sekitori", affords him his own room, having previously shared with other wrestlers.
Stablemaster Tadahiro Otake said despite Shaalan's rapid rise through sumo's ranks, he needed to keep his feet on the ground.
"He has not got strong all by himself but with the help of many other people. I hope he will never forget this," he said.
"I want him to draw attention with his brand of sumo, not because he is the first from the African continent."