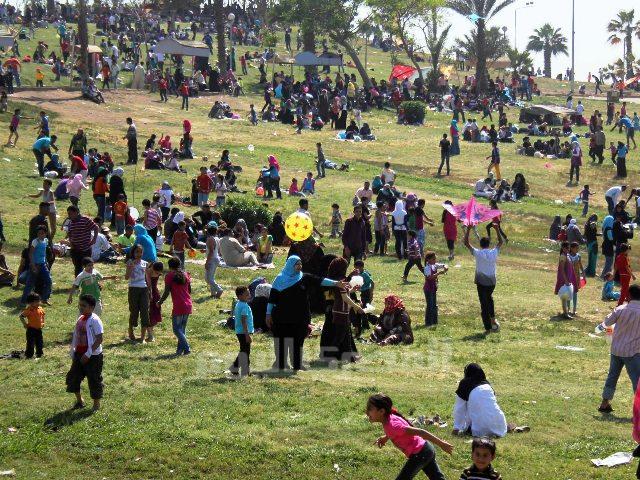 The Egyptian government announced on Tuesday that public parks and gardens will remain closed during the spring holiday Sham el-Nessim, a measure intended to deter gatherings and to prevent the spread of the novel coronavirus COVID-19.
Sham el-Nessim — a national holiday during which people often gather together in parks and in the streets and enjoy dyed eggs and salted fish called "Fesikh" — is widely celebrated in Egypt.
A statement made by the Ministry of Water Resources and Irrigation — which is responsible for public parks — appealed to citizens to adhere to these regulations in order to protect public health and to combat coronavirus.
The ministry has been renovating and improving all the gardens and parks under its care in the area of al-Qanater al-Khaireya. Other parks are also being improved so that they can be ready to receive visitors once the precautionary measures taken to combat the coronavirus come to an end.
Egypt on Monday confirmed 125 new coronavirus cases, bringing the country's number of confirmed total cases so far to 2,190. The total number of COVID-19 deaths has now reached one hundred and sixty-four nationwide.
The Egyptian government on Wednesday extended its nationwide curfew until April 23 as part of its precautionary measures to limit the spread of coronavirus. The curfew is from eight pm until six am.
Businesses will be closed from five pm until six am during the week, and are subjected to a complete closure on Fridays and Saturdays. All means of public and private transportation will continue to be suspended during curfew hours.
The business closures do not include bakeries, pharmacies, grocery stores and supermarkets outside of shopping centers. Restaurants will continue to be limited to delivery only.
The measures also include the suspension of schools and universities across the country, as well as the closure of all cafes, bars, cafeterias, and restaurants nationwide.
Flights will be also suspended during this period, as will cultural activities, traffic department services, and work at notary offices.
Journalists and media workers, doctors, healthcare and emergency services workers are exempt from the curfew.