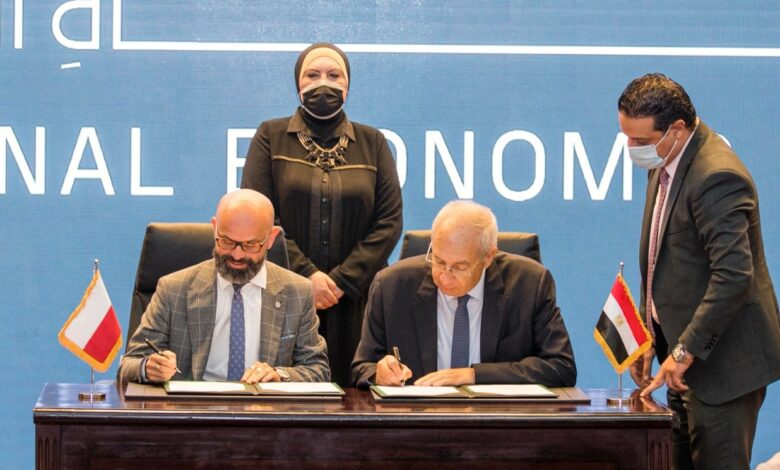 Egyptian Minister of Trade and Industry Nevine Gamea on Tuesday oversaw the signing of a framework agreement between the Suez Canal Economic Zone (SCZone) and its Polish counterpart in the Katowice region to establish a Polish industrial zone in Ain Sukhna, Egypt.
The Head of SCZone Yehia Zaki, and President of the Katowice Special Economic Zone Janusz Michalek signed the agreement in the presence of the Polish Deputy Foreign Minister Paweł Jabłoński, Poland's Minister of State for Economic Development Grzegorz Piechowiak, the Polish Ambassador in Cairo Michał Łabenda, Vice President of the SCZone Mohamed Shaaban about 50 Polish officials and businessmen.
The Polish economic zone in Ain Sukhna is planned with an area of 400 to 1,000,000 square meters targeting food industries, electronic industries and auto spare parts in Ain Sokhna.
Zaki said that SCZone fully supports investors and developers in the region and works to fulfill its obligations, facilitate all difficulties, provide all capabilities for investor satisfaction and provide an attractive work environment for investment.
He said that this was reflected in the issuance of some amendments to the executive regulations of SCZone and the issuance of import and export rules and customs guide.
After the signing ceremony, Zaki gave a presentation on the zone and the investment opportunities available therein, the advantages of the northern and southern regions as well as the infrastructure facilities beside the affiliated ports that would facilitate the global trade movement passing through the Suez Canal.