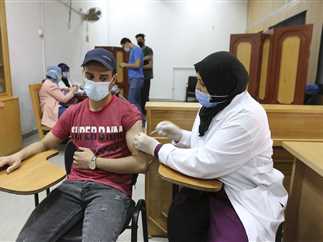 Egyptian Prime Minister Mostafa Madbouly on Wednesday ordered all ministers to issue a decision not to allow workers to enter government offices until after receiving a COVID-19 vaccine, or use PCR tests every three days.
At its latest meeting, the cabinet agreed that all ministers would issue a regulatory decision not to allow workers to enter government buildings from a specific date and up to two months, except after getting a coronavirus vaccine or a PCR analysis every three days.
Egypt's Education Ministry announced on Saturday that education workers who have not been vaccinated against coronavirus will not be allowed to work on site, unless they submit to twice weekly testing for the virus.
Egypt has provided many vaccines either through the VACSERA factories or imported vaccines.
There are 512 vaccination centers for citizens in addition to vaccination centers for travelers, he added, as well as thousands of medical mobile teams and convoys that target citizens in different gathering places.
Egypt's Ministry of Health and Population on Tuesday reported 718 new coronavirus cases, 39 deaths, and 599 recoveries.