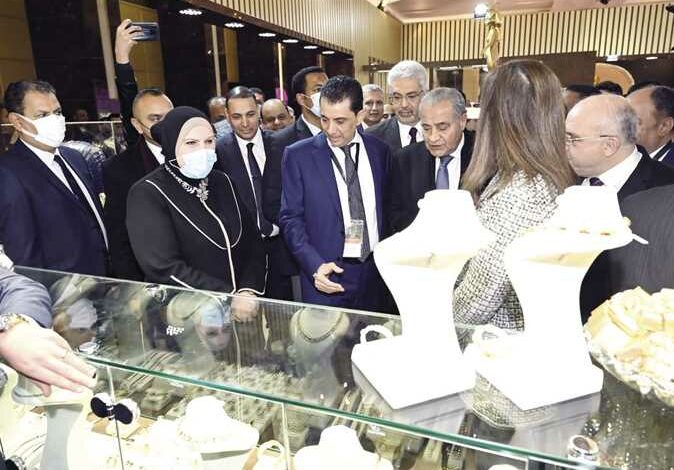 Egypt's Minister of Trade and Industry Nevine Gamea announced that the government is currently working on establishing a "City of Gold" on an area of ​​150 acres.
She pointed out that the City of Gold includes 400 workshops for the production of gold, 150 other educational workshops, and an educational industrial school, to be integrated with the technical school for gold and jewelery "Egypt Gold School" in Obour city.
Gamea's remarks came during the inauguration of the first Nebu Expo for Gold & Jewelry 2022.
She said that the size of the global market for jewelry exceeds US$228 billion annually, and is expected to surpass $307 billion in 2026.
Thus, concentrated efforts are required from both the state and private sector to increase Egypt's share of this huge market.
She stressed that the gold industry is one of the important industries in Egypt, which provides the needs of the local market and export to foreign markets, with unique designs that mimic the latest international models.
Gold is one of the most important products exported during the year 2021, the minister noted, with the total Egyptian exports of gold amounting to $1.1 billion.
There are distinct opportunities for the sector's exports in the markets of Arab countries and the African continent, she said, especially in light of the preferential free trade agreements signed with these countries – in addition to the great acceptance and popularity of Egyptian products in these markets.
The Nebu Expo for Gold & Jewelry 2022, held over three days, is organized by the General Federation of Chambers of Commerce, under the supervision of the ministries of Supply and Industry, with the aim of reviewing the most prominent developments in the gold industry.
Up to 30 exhibiting companies from the largest Egyptian companies in the production and designs of gold jewelry are participating in the exhibition, in order to present the latest Egyptian products on the international markets.