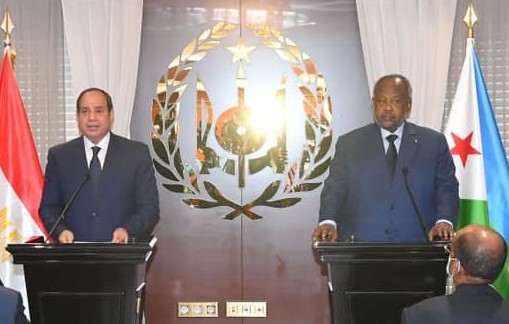 The Djiboutian Minister of Health, Ahmed Robleh met with the Egyptian Ambassador to Djibouti Hossam Eddin Reda to discuss cooperation between the two countries in health affairs, especially the agreement to establish an Egyptian hospital in Djibouti.
Robleh and Rida also discussed support provided by the Egyptian side to the health sector in Djibouti.
The Egyptian ambassador affirmed Cairo's desire for Djibouti's participation in grant programs and training courses it offers to friendly African countries, borne out of Egypt's desire to promote cooperation between the two countries in the health sector.
Reda stressed the importance of encouraging Djiboutian citizens to travel to Egypt to receive treatment, and referred to its highly qualified medical and nursing cadres on top of a highly advanced health infrastructure.
The Egyptian ambassador also stressed Egypt's openness to cooperate with Djibouti in energy and communications sectors, which the Djiboutian government holds a special priority.
President Abdel Fattah al-Sisi made the first visit of an Egyptian president to Djibouti in May.
There he held a joint summit with President Ismail Omar Guelleh to discuss security, military and economic cooperation.
Djibouti is of great strategic importance for Egypt, especially with it overlooking maritime traffic from the Bab al-Mandeb strait, the southern entrance to the Red Sea towards the Suez Canal, as well as its importance as one of the countries of the Horn of Africa and East Africa near the Grand Ethiopian Renaissance Dam.