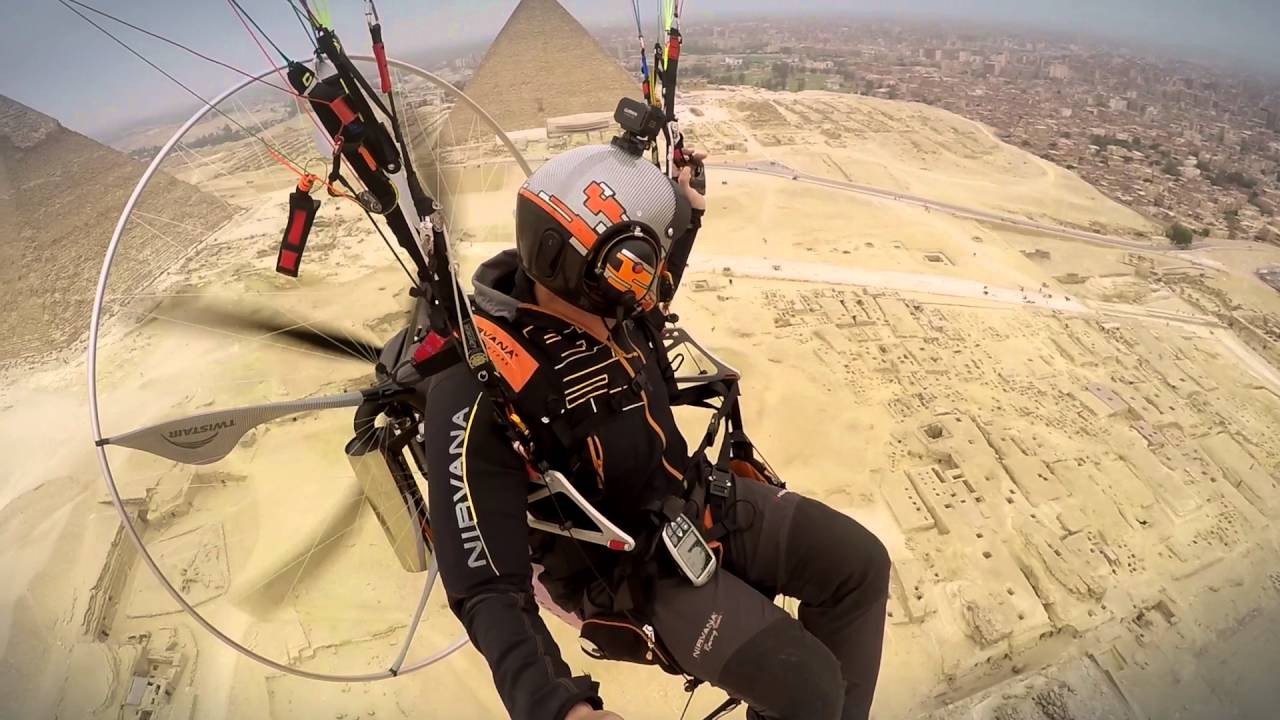 Are you an adrenaline junkie? In love with air sports? Well, get ready, because Egypt is hosting its first-ever air games festival under the name "Egypt Air Games 2018," which will take place during April 25-29.
During the games, participants will get the opportunity to fly over the Pyramids of Giza – the oldest of the seven wonders of the ancient world.
The festival will be organized by Sky Sports EG Company in cooperation with the Air Sports Federation and will include a host of activities.
Ready to hear about the program?
Participants will first get a from-the-air tour of the pyramids followed by an airshow where paramotors allegedly will carry the largest Egyptian flag ever. Not only that, but participants can bring company with them for an outstanding price.
Skydivers will be paying US$2,000, while for paramotor pilots the price is US$1,000. Accompanying guests will pay US$500 and the paramotor tandem flight will cost US$60.
However, these prices include more than just the flight. They also include accommodation at the Mövenpick MediaCity Hotel, a tour of the pyramids, a tour of the Egyptian Museum, sightseeing of the Salah Eldin Citadel, a tour of El-Hussein "Muizz Street", transportation from and to the airport and transportation from and to the Giza flying sites.
Prices also include entrance to the Great Pyramids of Giza and three skydiving jumps over three days. The jumping days will be April 26, 27 and 28 and will take place either in the morning or the evening depending on the weather conditions. The jumps, which will be made from a helicopter at an altitude of 2400 meters, are only allowed for certified skydivers (B license) who bring their own gear.
Paramotors also have to be certified and the pilots must have medical insurance.
The above prices do not include plane tickets to get to the site.
Air sports have in the recent past become increasingly popular around the world. In 2020, the fifth edition of the so-called World Airgames will be held in Turkey, an event that is expected to bring in hundreds of thousands of dollars in tourism revenue and attract more than 4000 athletes from more than 100 countries. After the Olympic Games, the World Airgames is the largest international contest when it comes to the number of participants, according to the Turkish Aeronautical Association.
The first World Airgames were held in 1997, also in Turkey, followed by Spain in 2001, Italy in 2009 and the United Arab Emirates in 2015. Like the Olympics, the international air sports event represents a prime opportunity for countries to promote themselves and attract significant tourism revenues.
In terms of content, air games are generally considered to include 10 parts: aerobatics, aeromodeling, air racing, ballooning, gliding, hang gliding, helicopter, microflight, parachuting, and paragliding.
For more information about the upcoming air games event in Egypt, click here.
So…Are you ready to take the plunge?