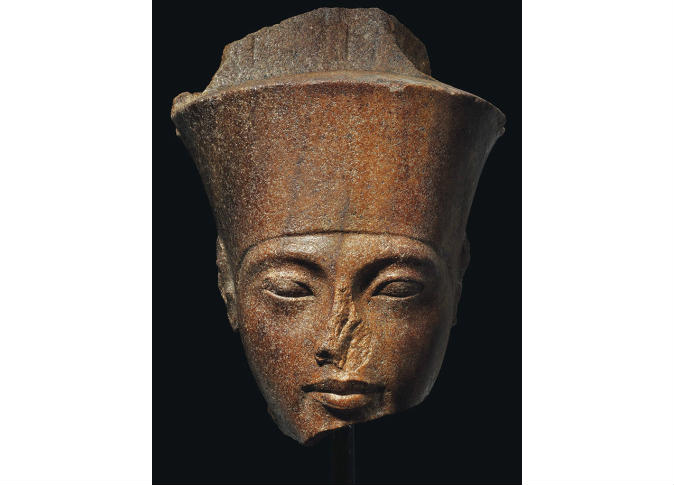 Egypt's Antiquities Ministry said on Saturday it would address Christie's auction house in London regarding their auctioning of a 3,000-year-old stone bust of King Tutankhamun, set for July 4 and expected to bid at least four million euros.
In a statement, the ministry said they would take the necessary action in cooperation with the Egyptian Foreign Ministry to verify the documents Christie's owns regarding the piece, and determine how it was obtained.
Director General of the Retrieved Antiquities Department of the Antiquities Ministry, Shaaban Abdel Gawad said that the ministry will not tolerate anyone selling Egyptian artifacts.
He added that if it was discovered that any piece was illegally smuggled out of Egypt, all legal procedures will be taken with Interpol in coordination with the Egyptian Foreign Ministry to retrieve them.
He pointed out that this piece was not taken from any museums or warehouses belonging to the Antiquities Ministry, however.
The Financial Times newspaper reported that Christie's said it was in frequent contact with Egyptian authorities about its planned sales of antiquities, adding that it would send details of the bust and other artifacts in sale to authorities during the publication of their sale catalogue, earlier this week.
It is unknown when and where the Tutankhamun head was found, but it was known back in the 1960s, when Christie's said it formed part of the collection of Prince Wilhelm von Thurn und Taxis, a German collector. It subsequently passed through the hands of dealers until it was bought by the current owners in 1985, according to Financial Times.
Ever since British archaeologist Howard Carter discovered the tomb of King Tutankhamun in 1922, with its treasures left intact and untouched by thieves, the pharaoh has captivated the hearts of people globally and helped to spur further interest in Egypt's ancient history.
Edited translation from Al-Masry Al-Youm