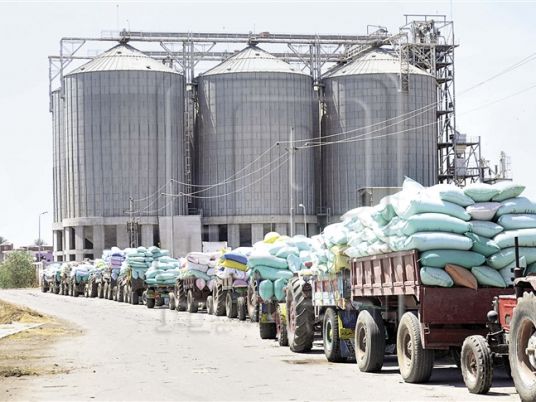 Egypt has about 2.6 months' worth of wheat in its strategic reserves and expects to buy up about 3.8 million tonnes from local farmers, Minister of Supply Ali Moselhy told Reuters on Monday at an event in Beni Suef to mark the beginning of the local harvest.
Egypt, the world's largest importer of the grain, has said it aims to buy about 4-4.5 million tons of wheat from farmers this season, while cracking down on smuggling that has cost the country hundreds of millions of dollars in recent years.
Moselhy put that procurement figure a bit lower on Monday. "Maybe about 3.8 (million). I'm always underestimating — 3.7 to 3.8," he said, standing in a wheat field in Beni Suef, an agricultural province about 100 km south of Cairo.
Egypt's local wheat harvest begins around mid-April and runs through July.
The North African country has been tightening its policing local wheat procurement to prevent fraud.
More than 2 million of the 5 million tonnes of wheat bought by the government last year may have existed only on paper, according to grain industry experts and lawmakers who investigated the matter.
Moselhy said state grain buyer GASC would continue to import during the harvest aiming to increase strategic reserves to six months. "Up until now we have about 2.6 months [of wheat] as reserves. We always aim to have four months of reserves, but as you know we are starting the season, and we're getting about 4 million [tons], which will give us a six-month reserve," said Moselhy.
Moselhy said the 2.6 month figure did not include quantities of wheat contracted for by GASC but which have not yet arrived and it is unclear how much remains outstanding.
Government figures for reserves have in the past often included wheat not yet in the country, a tactic traders say inflates the country's level of strategic reserves.
Moselhy added that GASC's monthly consumption of wheat, which it uses to supply the country's sprawling bread subsidy program, stood at about 800,000 tonnes per month.
In the months leading up to the wheat harvest Egypt's GASC has been buying wheat from abroad, which traders have attributed to higher-than-usual bread consumption by Egyptians hit by soaring inflation.

Report by Arwa Gaballa; Writing by Eric Knecht and Asma Alsharif; editing by Jason Neely and Louise Heavens