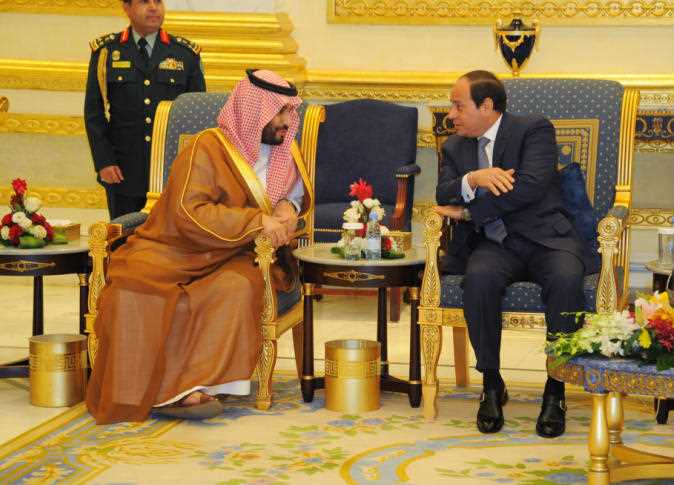 Egypt will not allow the security and stability of the Gulf countries to be compromised, President Abdel Fattah al-Sisi said in a meeting with the Saudi monarch on Tuesday – stressing that Gulf security is an integral part of Egypt's security.
Sisi on Tuesday visited Riyadh to meet with Saudi King Salman bin Abdulaziz Al Saud, where an official reception ceremony was held for him, the two national anthems were played and the guard of honor was paraded, Bassam Rady, official spokesperson for the Egyptian Presidency, said.
The two leaders held individual talks, followed by an expanded session that included delegations of the two countries, where King Salman welcomed Sisi, stressing the depth of Egyptian-Saudi relations.
Salman praised Egypt's pivotal role in the Arab region, and its unremitting efforts to support Arab and Gulf countries in particular, as an essential pillar for maintaining security and stability in the Arab world.
The Saudi monarch expressed his appreciation for Egypt's support for Saudi Arabia on various issues, and for the contributions of Egyptians in many sectors contributing to achieving development in Saudi Arabia.
He stressed Saudi Arabia's keenness to strengthen bilateral relations with Egypt at all levels, in order to achieve the common interests of both nations.
Sisi expressed his appreciation for the warm reception, and noted the strong brotherly ties between the Egyptian and Saudi people – who share a common history and a single destiny.
Egypt's president also stressed the importance of continuing to work toward Arab solidarity to face all challenges.

Rady added the discussions also touched on ways to strengthen bilateral relations between the two countries especially at the military and security levels, as well as the economic, investment and development fields, with the aim of making optimal use of all available opportunities to enhance integration between both nations.

The developments of a number of regional and international issues of common interest were also discussed, he added.
The officials of the two sides agreed on the need to strengthen joint efforts to combat terrorism and the concerted efforts of the international community to reach political settlements to the crises witnessed by some countries in the region, in a manner that preserves the territorial integrity of those countries and preserves the wealth of its people.