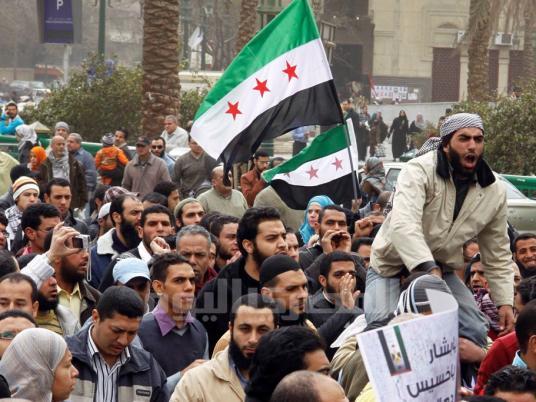 On Sunday, Egypt withdrew its ambassador to Syria and Syria responded by recalling its ambassador in Cairo, Youssef al-Ahmed.
In response to Syria's decision, Amr Roshdy, Foreign Affairs Ministry spokesperson, said that discussions with Syrian President Bashar al-Assad reached a stage of mistrust.
In a press conference held at the Foreign Affairs Ministry, Roshdy said that Egypt will continue to pressure Syria "in the hope that the regime will change its positions and policies." He said that the decision to recall Egypt's ambassador came in response to Egyptian public opinion.
He said that Egyptian foreign policy since the 25 January Revolution no longer reflects the opinions of one individual, but rather that of the general public.
Dozens of Syrian activists and Salafi youths continued their sit-in in front of the Syrian Embassy in Cairo for a second day, saying they will accept volunteers for a jihadist Syrian army.
The protesters want Egypt to completely sever relations with Syrian President Bashar al-Assad's regime, due to 11 months of violence against protesters demanding an end to Assad's rule.
They released a statement saying the Syrian Embassy will be closed until a transitional government takes power and Assad is tried in front of the International Criminal Court for committing genocide against the Syrian people.
The protesters condemned the passage of Iranian ships "loaded with weapons for the regime of Assad" via the Suez Canal.
Momen Koafatiya, deputy chief of the Coordinators of the Syrian Revolution in Egypt, said a group of Syrian activists had discussed their views with the Egyptian Parliament's Arab Affairs Committee.
Koafatiya said that the assistant interior minister has negotiated with the protesters to give the government until Tuesday to discuss their demands. He managed to persuade some of the protesters to end their sit-in, but dozens remained.
They displayed Syrian flags, photos of those killed in the Syrian uprising, and several banners reading, "The embassy is closed upon orders from Syrian revolutionaries in Egypt until it is handed over to the national Syrian army."
Protesters chanted against the massacres committed by Assad's regime, saying, "The people want Assad slain" and "Egypt and Syria are one hand."
Translated from Al-Masry Al-Youm