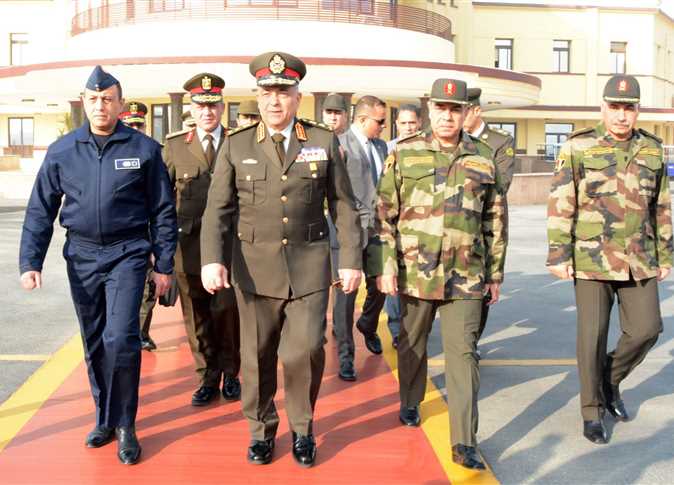 The Egyptian Armed Forces Chief of Staff, Mahmoud Hegazy, arrived in Libya heading a military delegation to take part in the Libyan national army's celebrations for the third anniversary of Operation Karama (Dignity), the goal of which was to drive armed militias out of Libya.
Hegazy was received at the army's general command, before meeting with the Libyan army chief of staff Khalifa Haftar in attendance of senior officials from both countries.
Hegazy felicitated the Libyan army on the third anniversary of the operation. Their meeting tackled local and foreign developments in light of current challenges in Libya and the region. The two sides tackled joint military coordination, as well as necessary measures to prevent attempts of infiltration and smuggling through the border of the two countries.
The Egyptian official also expressed his country's interest in supporting Libya in its efforts to preserve its territorial unity.
Meanwhile, Haftar praised the Egyptian supportive role toward the Libyan army and highlighted cooperation with Egyptian armed forces to exchange expertise in different fields, in addition to efforts made towards the stability of Libya.
The two officials, accompanied by Libyan army officials, met with several tribesmen who welcomed Hegazi and highlighted the Egyptian role in resolving the Libyan crisis.
The visit comes within Egypt's supportive efforts toward the Libyan army against terrorism and its keenness on finding political solutions based on consensus for the Libyan crisis.
Edited translation from Al-Masry Al-Youm