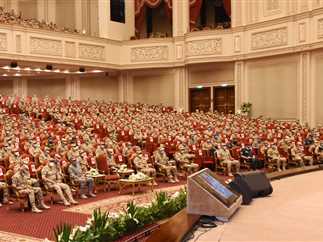 The Commander-in-Chief of the Armed Forces and Minister of Defense and Military Production Mohamed Zaky met with several officers newly appointed to leading positions in the armed forces, reflecting the keenness of the General Command of the Armed Forces to communicate with leaders at all levels.
Zaky conveyed congratulations from President Abdel Fattah al-Sisi, the Supreme Commander of the Armed Forces, to commanders and officers for assuming their new positions, describing it as a major responsibility placed by the General Command of the Armed Forces on their shoulders in order to preserve their homeland.
Defending the homeland and protecting its national security is a sacred task that requires constant combat readiness and building a force capable of facing challenges, Zaky said.
The armed forces, with their individual combatants, combat capabilities and advanced weapons in all disciplines, are capable of deterring anyone who seeks to harm Egypt's security, he assured.

He recommended that commanders and officers continue to research and study in military and civilian knowledge that would help them perform their duties in an optimal manner, and adhere to military discipline and the principles.
Zaky held a dialogue with the commanders and officers, in which he listened to their views and inquiries and discussed with them various issues, asking them to constantly raise their scientific knowledge to be fully aware of all the regional and global events and its repercussions on the Egyptian national security.