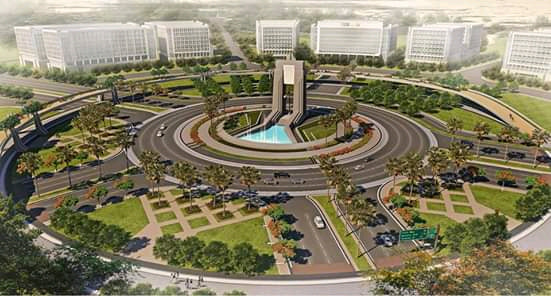 Egypt has set towards establishing a new headquarters for the Egyptian Ministry of Defense, the largest in the Middle East, in the New Administrative Capital in Greater Cairo.
The new building, called "The Octagon", includes all the headquarters of the branches of the Egyptian Armed Forces, and is scheduled to be completed soon.
The project is located on a total area estimated at 189,000 square meters, while the actual area of ​​the buildings is estimated at 45,000 square meters.
The design includes eight octagonal buildings based on a Pharaonic style, lined up in a circle that includes administrative buildings, with two central ministerial buildings located in the center of the circle.
They are connected to each other and to the rest of the eight outer buildings by longitudinal passages.
The number of these buildings is equal to the number of the Egyptian army departments.
The name, similar to the US's five-sided 'Pentagon', follows from its design of an octagonal base – actually made up of several buildings – each of which are octagonal and linked by corridors connected to the main building in the middle.
Government to relocate
The Egyptian government is accelerating its move to the new administrative capital, leaving the old government buildings in the capital, Cairo, to ease congestion.
The Chairman and Managing Director of the New Administrative Capital Company, Khaled Abbas, stated that no date has been set for the official opening of the New Administrative Capital, but it is expected that the celebration will be at the beginning of 2023, after completing the government's transition.
The government has currently been handed over the buildings, he said, and gradually started to transfer government employees, which was fully completed in November.