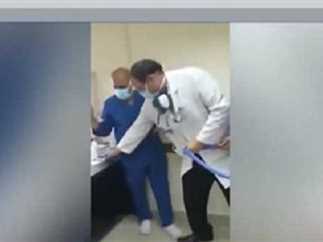 Authorities have arrested a doctor who appeared in a video that went viral on social media, shown bullying a nurse and forcing him to bow down to a dog, security sources reported.
After monitoring the clip on social media, the Public Prosecution asked the police to quickly arrest the doctor, examine the clip and identify the owner of the social media account that published it.
Prosecutors ordered the detention of the doctor and an employee of a private hospital for four days, pending investigations, and the arrest of another doctor, accused of bullying a hospital nurse and abusing their authority over him.

Prosecutors accused the suspects as well of exploiting religion in promoting extremist ideas with the intent of provoking sedition, contempt for religion, violating family principles and values ​​of Egyptian society, and uploading a public video clip that violates the privacy of the victim.

The victim confirmed during interrogation that he was bullied by the three suspects.

He added the clip was shot without his knowledge or consent and that it ruined his reputation among his family and in the village where he lived.
The suspects denied the accusations brought against them. They justified what appeared in the filming as a habitual acceptance from the victim to their joking. They denied publishing the clip on social media.
The victim denied he was in on the joke.