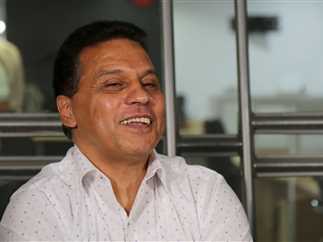 The Egyptian Football Association (EFA) announced that it has dimissed Hossam al-Badry from his position as coach of the Egyptian national football team.
Badry however refused to submit his resignation at the request of head of the tripartite committee managing the affairs of the EFA Ahmed Megahed.
Some attributed Al-Badry's refusal to his desire to obtain the penalty clause in his contract with the national team.
Badry confirmed in media statements that he did not fail in his mission and was successful in achieving all the tasks assigned to him to reach the Africa Cup of Nations and to top by his group in the World Cup qualifiers.
However Badry said that he, along with the national team's players and technical staff, old mistakes, yet he achieved his tasks without the team suffering any loss under him.
Liverpool and the Egyptian national football team star Mohamed Salah thanked the former technical staff on Twitter on Monday.

"I would like to thank the former technical staff, led by Captain Hossam al-Badry and his assistant staff, for the last period, and I wish them all the best in the future,"Salah wrote.

The tripartite committee in charge of managing the Football Association dismissed the technical staff of the Pharaohs, led by Badry, due to the poor performance in the Gabon match, which ended in a draw in the framework of the second round of African qualifying matches for the World Cup.