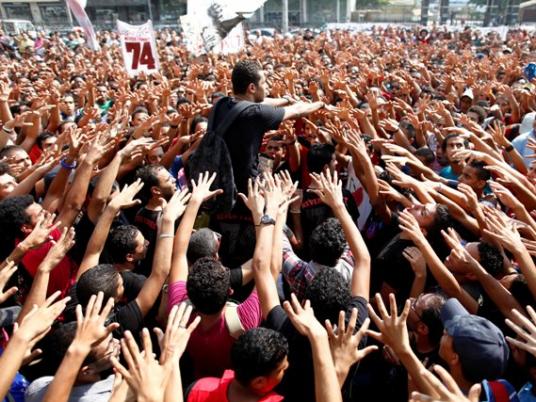 Mahdy Suleiman, an Egyptian goalkeeper, said he is likely to accept a formal offer to join the Israeli Hapoel Tel Aviv F.C. during the upcoming winter break, "if it is the only chance to play football."
Suleiman is currently playing for Petrojet F.C, which competes in the suspended Egyptian Premier League. He previously played for prominent Egyptian football teams Ennpi and Arab Contractors.
Suleiman told Sky News Arabia in a telephone interview, "I received the formal offer through a Hungarian agent. I have not yet accepted it, but I might think of accepting if it is the only way for me."
He described agreeing to play in the Israeli league as a "very serious risk."
"A large number of Egyptian players contacted me as soon as they knew of the offer, so that I [could] ask the agent to find opportunities for them in the Israeli league, if possible," the 25-year-old goalkeeper added, without naming the players.
Suleiman said that any player's wish to play in the Israeli league is justified by the suspension of football activity in Egypt, criticizing "those responsible for resuming the activity in the country who do not think of the future of all the workers of the sports sector."
Suleiman did not reveal the financial terms of the offer he was sent, and neither did he reveal the number of years of the contract.
Premier League football activity has been suspended in Egypt since the Port Said football violence, in which at least 72 Ahly fans, particularly members of the group Ultras Ahlawy, were killed after fans of the club Masry stormed the pitch at Port Said Stadium.
Some workers in the football sector, including players, administrators or journalists, complain about financial difficulties as a result of the activity halt.
However Ultras Ahlawy, supported by other members of the football sectors, members of the victims's families and many political activists and groups reject the resumption of Premier League matches.