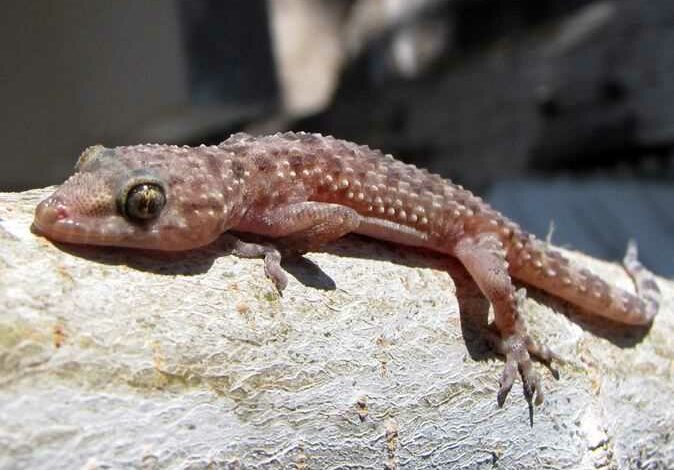 The Israel Nature and Parks Authority (NPA) announced  Tuesday that the Egyptian gecko (Tarentola annularis) is invading Israel, specifically Arava valley area, and demanded the help of the residents to locate it.
Israel's Environmental Protection Agency said: "If you have areas with street lights or any other type of light that attracts insects, or areas where you might see an Egyptian gecko, please photograph it with your phone and share it with us."
Devouring agricultural crops
Israeli scientists and researchers issued a warning about the spread of the Egyptian gecko in the Arava valley region in the south of the country, which threatens its ecosystem.
In a report published by the Israeli newspaper Yedioth Ahronoth, the NPA stated that it was seeking help from local residents of Arava valley in locating Egyptian geckos and lizards, which began to spread in the region and multiply at a rapid speed, posing a threat to crops.
Devouring everything in front of it
Yedioth Ahronoth quoted Professor Shai Meiri of Tel Aviv University as saying: "The Egyptian leper can eat anything it can overcome."
He added that Egyptian lizards and geckos have the ability to cause severe damage to any ecosystem, stressing that the Israel NPA is seeking help from the population in locating these species in preparation to halt their spread.
Danger to the environment
Meiri added that his assessment confirmed that these Egyptian geckos and lizards had eliminated all local geckos and had become a threat to the environmental situation in Israel and threatened to devour all agricultural crops.
He said that Egyptian lizards were spotted eating small birds. They are a very aggressive species, which bite hard and reproduce in a fast life cycle, he warned.
"In North Africa, it has been spotted eating jerboa, and it also eats geckos and other arthropods, and poses a potential danger to anything living in its habitat smaller than it."
According to the Yedioth Ahronoth newspaper report, the NPA was unable to determine how the species moved all the way to Arava valley.