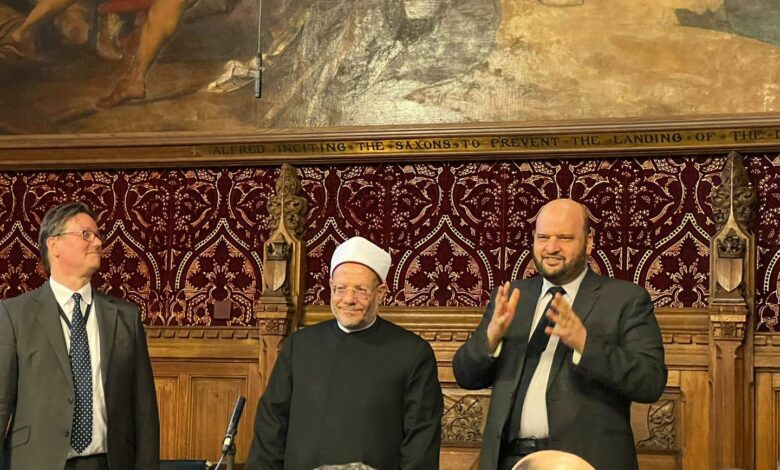 ‍
The Egyptian Grand Mufti, Head of the General Secretariat for Fatwa Authorities Worldwide (GSFOW), Shawki Allam, launched the initiative of Fatwa Pro mobile app during his historic speech before the British House of Commons and Lord's.
This was  part of his visit to the United Kingdom, which began on Sunday.
The Grand Mufti explained to members of the British Parliament the application, which the Egyptian Dar al-Ifta initiated on smartphones, and is dedicated to Muslims in the West, using English, French and German.
Allam added that the application aims to provide all fatwas of interest to Muslims and answer their questions within Islamic societies.
It is also an aid to provide religious guidance to Muslims to ensure that they preserve their Islamic identity and prevent them from falling into the clutches of extremist ideology and subsequently terrorist groups.
He explained that the Egyptian Dar al-Iftaa realized early on the importance of technology and modern means in conveying its message to the whole world.
Confronting extremist and terrorist groups and answering many of the issues that occupy the minds of Muslims and non-Muslims in Western societies about Islam and its teachings.
The Mufti described Fatwa Pro as a moderate, permanent, and available mufti at any time for Muslims in the West.
He pointed out that this application provides fatwas in different languages, answered by a group of specialized and qualified muftis to carry out this task.
It is also seen mainly as a quick source of providing fatwas of interest to Muslims in Western societies in various disciplines, as well as protecting Muslims in these societies from extremist or atheistic thought, and controlling Fatwa discourse.